With the online freelance world currently thriving with an emphasis on working from home in the last years, there has never been a better time to take advantage of the quality gig services Fiverr has to offer. For those who do not know, Fiverr is an online marketplace for freelance services of all shapes and sizes, from writing to artwork, voice-over work to design, and marketing to 3D printing. If you need it, chances are someone on Fiverr provides it. All you need to do is open a Fiverr account and search for the key terms of your job in question and you will be provided with a long list of worthy contenders.
With the turn of a new year, I wanted to compile a list of the gigs that are currently thriving on this freelance hub, as well as pointing out a few to avoid. Because I've been buying gigs on Fiverr quite a lot lately, the gig services that I recommend in this article are based on my own buying experience, to help buyers find the right freelance talent for their business.
Without further do, this is my 27 quality gig Fiverr services that you can buy in 2023, and several ones to watch out for.
Disclosure: this post contains affiliate links. If you order something or register through one of the links below, you won't pay a penny more, but we'll get a small commission, which helps keep the lights on. We really appreciate your support!
What is Fiverr Pro?
Fiverr Pro is an on-demand global marketplace, where exceptional, hand-vetted sellers can offer their services to engaged business buyers. Some of the most well-known businesses in the world have hired Fiverr Pro freelancers such as HBO, Sony, Forbes, Nike, CNN and many others.
Fiverr Pro gigs cost more than typical Fiverr gigs due to the seller's higher level of experience and I usually recommend it as a great resource for larger teams and organizations working with freelancers on a regular basis. When you use Fiverr Pro, you can be sure that you're getting quality work from reliable sources.
My Top Fiverr Pro Gigs:
Best Graphic Design Fiverr Services
1. Illustrations
With the growing digital age, 2023 will see a growing demand for visual content. As a result, freelancing will certainly be on the rise in the graphic design and illustration field. The question is not where to go and find good illustrators, but how to choose the right ones for your business. As a buyer you have plenty of choices on Fiverr, because there are tens of thousands of illustration services already. From Realistic, Portrait designs to Line Art, 3D and Flat illustrations, you can easily find illustration experts for any style or job necessary.
I constantly like to come up with creative and fun ideas to hire illustrators on Fiverr and showcase their work on my blog. To give you a head start in your search, here is an article in which we set ourselves a budget of several hundred dollars and challenged Fiverr artists and illustrators to come up with creative face mask designs.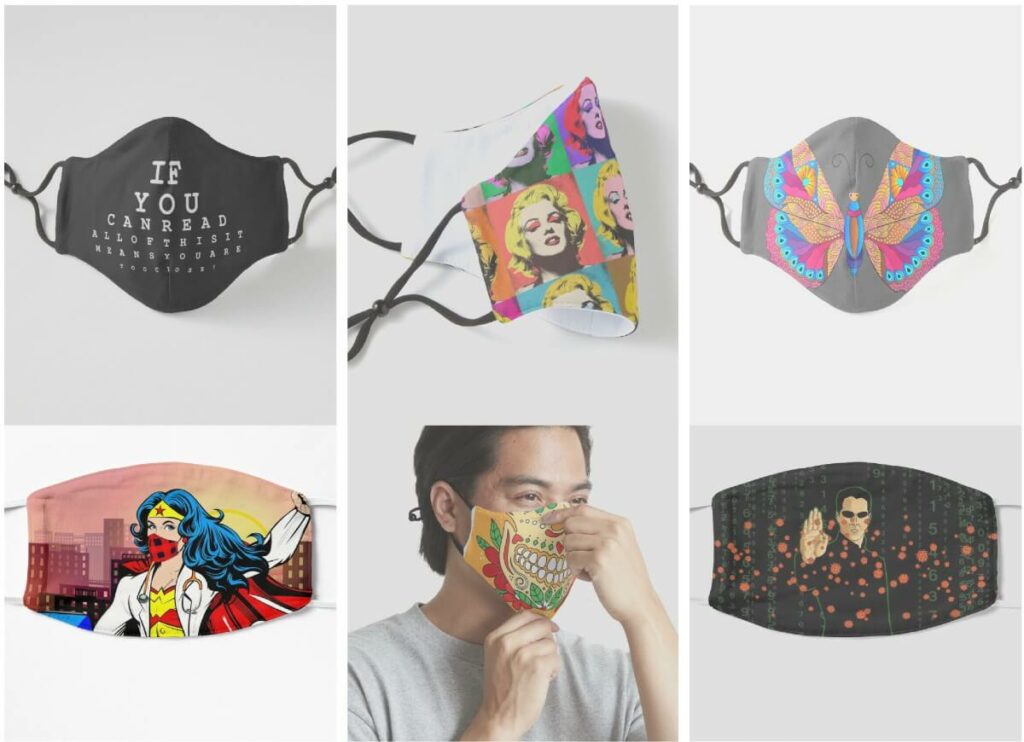 My Top Illustration Gigs on Fiverr:
2. Logo Design
If you are looking for a good but affordable logo design, you may consider giving Fiverr a try. On of the things Fiverr is incredibly useful for, it's a good option for small business which cannot afford an in-house graphic design staff or other related services.
On our quest to find talented logo designers on Fiverr, we bought 10 different logo design gigs ourselves, from new sellers selling for 5$, all the way to top rated ones – and assigned them to create a unique version of our own website logo, from scratch. Can you guess from the photo below, which was the most expensive logo we bought?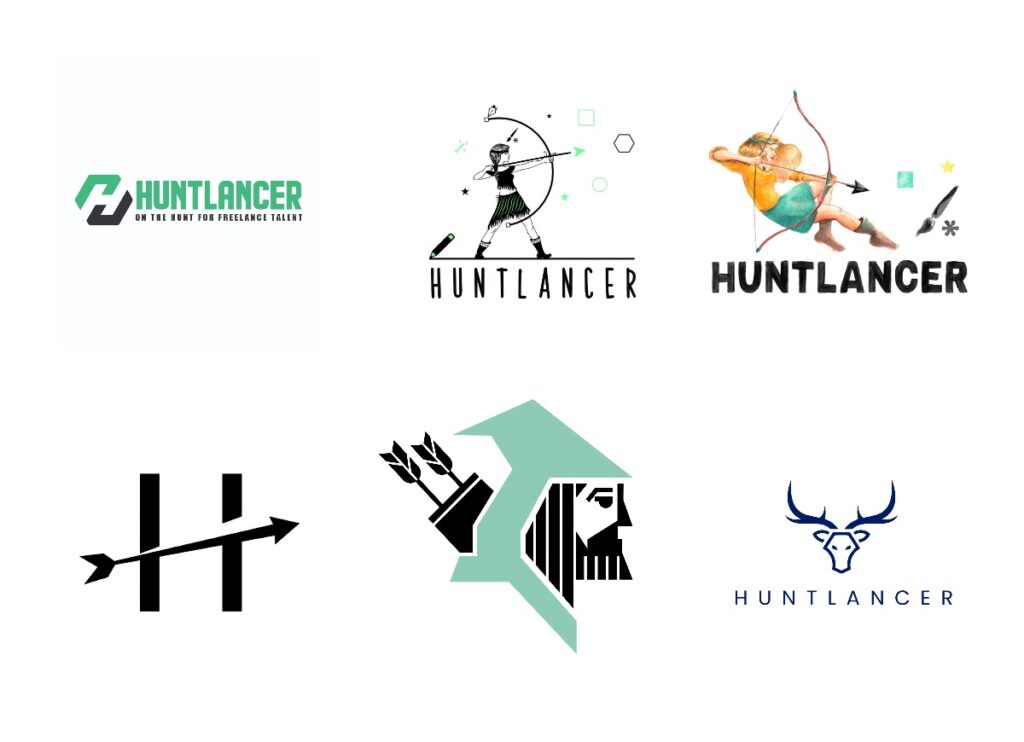 My Top Logo Design Gigs on Fiverr:
3. Surface Pattern Design
Surface pattern design includes any pattern, illustration or repeat that can be applied as surface decoration for products such as clothes, fabrics, wallpaper, apparel, gift items and many others. With the increase of print on-demand online services which easily allow you to manufacture and ship your custom designed products, the need of Pattern designers is currently on the rise.
Fiverr recently introduced the Pattern Design subcategory specifically for featuring freelance artists focused on creating surface pattern designs. We decided to try out a few of these pattern design services ourselves. Here are several related gigs that we bought and the pattern artworks we got (below), with prices ranging between $10 and $40.
My Top Pattern Design Gigs on Fiverr:
4. Book and Album Cover Design
They say you can't judge a book by its cover but a book cover is literally designed for you to make your first judgment about the book. Actually, one of the most important factors playing into your book's success is its cover. The same goes for albums, the design of an album's cover is a crucial aspect of the album itself.
If you're looking for a fast and professional cover design, I would highly recommend to buy a Fiverr Pro cover design service. Fiverr Pro hosts a select group of freelance designers who have been vetted and approved to offer professional services. The pro gigs are more expensive but investing a bit more money in your cover design has a few great benefits such as the potential to increase your book or album sales and make a stronger connection with your audience.
My Top Cover Design Gigs on Fiverr:
5. Business Card Design
Are business cards still relevant in post COVID-19 and social distancing times? Surprisingly yes. According to a recent article in Boston Business Journal, business cards are still in demand. With a proper design and use, business cards can be an effective tool to set you or your business apart from others that don't use them.
My Top Business Card Design Gigs on Fiverr:
6. Infographics
If you are a content creator, you can't go wrong using infographics in your content strategy. You should consider creating one if you want to communicate information in a way that is both easier to understand and more visually engaging for the viewer. But while they may look easy to create, the best infographics are deceptively difficult to get right. Luckily, Fiverr provides plenty of professional Infographic Design services to choose from to get it quickly done and delivered remotely online.
My Top Infographic Related Gigs on Fiverr:
Top Writing Fiverr Services
7. Article and Blog Writing
The truth is there are thousands upon thousands of writers on Fiverr. But how to find the right one for your business? The key to finding a great content writer is to take advantage of the tools Fiverr offers and to trust your instincts. Also, check out samples of their work within their gig descriptions. This gives you an idea of the freelancer's skill-level and quality. You don't even have to find the perfect writer on the first try. You may want to buy a few different writing gigs and when you find a seller that does a great job, stick with that person.
Here is a list with my favorite Fiverr writing gigs featuring some talented freelance writers that help me out with crafting the content on my blog.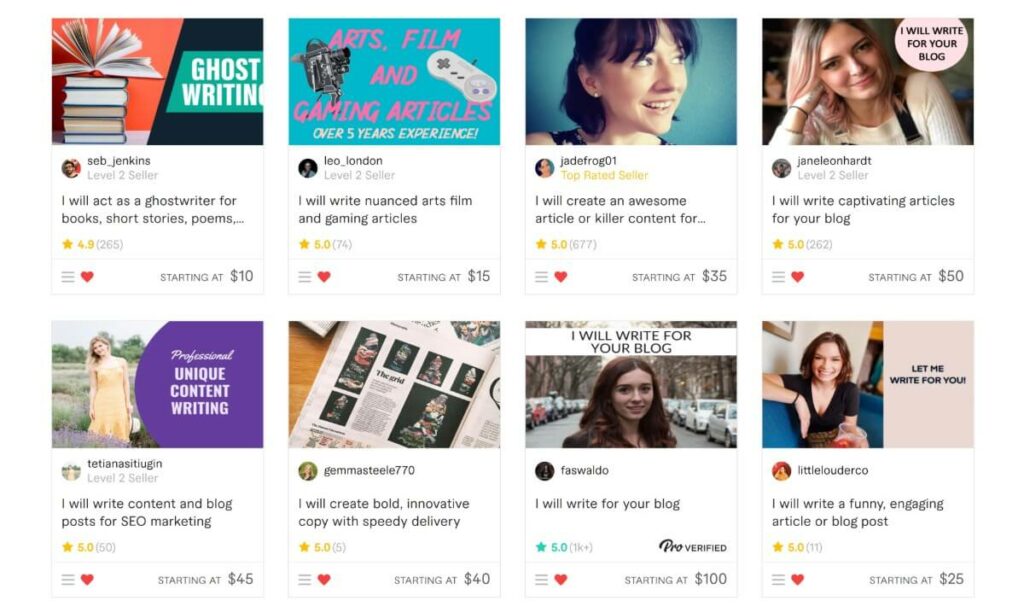 My Top Content Writing Gigs on Fiverr:
8. Resume Writing
Resume writing is one of the most popular and best selling services on Fiverr. For that reason, it is not difficult to find some quality resume writing services for decent prices. My suggestion is to take a bit of time searching on the platform, and find one that matches your personality, needs, industry, and career objectives. Before buying the gig, you should contact the writer and get a feel for his/her knowledge and expertise. Here is a list of Fiverr resume writers with good scores and a lot of reviews.
My Top Resume Writing Gigs on Fiverr:
9. Press Releases
Publishing more press releases on a regular basis is a great way to improve your brand's image. If your budget is more limited and cannot hire a PR firm or publicist, you want to find a freelance writer instead. Ideally, the right candidate should have experience writing press releases that are relevant to the industry your startup operates in. You can easily find some press releases Fiverr services for any job necessary.
My Top Press Release Gigs on Fiverr:
Top Video and Animation Fiverr Services
10. Explainer Videos
Explainer videos are short online marketing videos commonly used to explain your company's product or service. Whether you are selling a product, marketing a website, or selling a complex piece of software, explainer videos can do a better job of telling your story. While infographic and written advertisements do perform well, sometimes there simply isn't space to fully explain what your product/service provides. Not to mention the fact that videos are far more engaging than non-moving images and text.
My Top Explainer Video Gigs on Fiverr:
11. Logo Animations
Logos are one of the most important aspects of your business. They are often the first thing that people see and first impressions certainly count! If your logo seems unprofessional, your entire company can be tainted with the same brush at a second's glance. Logo animations are now proving to be a popular tool used to emphasise professionality, as well as serving as a more eye-catching alternative to the standard logo. The main difference is that logo animations have some form of moving/animated part.
My Top Logo Animation Gigs on Fiverr:
12. Spokepersons Videos
Spokesperson videos are essentially simple green screen videos that give your brand a voice and a face. They often involved one person facing the camera and explaining what your business does. These usually appear on the home page of your website to greet new visitors, to explain what the website is for, and to give them a sense of what the business can provide for them. It is important to get a face and voice that matches your brand, but luckily there are plenty to choose from on Fiverr.
My Top Spokeperson Video Gigs on Fiverr:
13. Short Video Ads
Advertisements are the backbone of modern online business. However, the old TV trend of long adverts is largely dying, making way for a more efficient model. Short video ads are designed to come in, give a quick message and get out again. These can often be 10-15 seconds long and are most often seen in the middle of online videos, such as YouTube. Not only are these effective in terms of marketing, but they are also far cheaper to make and run. On Fiverr, you can easily find quality short video ads gig services for any job.
My Top Short Video Ads Gig Services on Fiverr:
14. Video Animations for Children
Writing services for children's stories have always been popular on Fiverr, but animations are a great way to bring these words to life. Most children are very visual learners, meaning that moving images can enhance a story beyond recognition, especially if they are reading above their age level. There are loads of children's video animators to choose from on Fiverr who can take a story and design a cartoon to be played alongside it.
My Top Children Animation Gigs on Fiverr:
15. Blog to Video Services
It feels as if blogs have been around since the dawn of time and that really isn't far from the truth. Almost since the birth of the internet, people have been jotting down their thoughts and feelings for others to read. However, as with anything, advancements in technology has introduced a new and more engaging form of blogging, the vlog – short for video blog. Converting your written blog to an animated video or piece-to-camera video allows you to upload it to video streaming sites and to give your brand a face/voice.
My Top Blog to Video Gig on Fiverr:
Top Digital Marketing Fiverr Services
16. Social Media Scheduling
Social media is one of the most important parts of modern marketing. If a company doesn't have Twitter, Facebook and Instagram, they are doing something wrong. However, it can be a full-time job to keep up with posting, sharing and liking on these pages. This can be especially difficult for small-team start-ups. Fortunately, you can now pay people on Fiverr to sort out your social media scheduling, ensuring that your content is uploaded regularly and without fail.
My Top Social Media Scheduling Gigs on Fiverr:
17. Product Listing
You could design the best product in the world, but if the product listing were unappealing, you wouldn't sell many units. There is no point in having a world-class product if you don't show it off to the world. Fortunately, you can now find freelance experts on Fiverr who specialise in designing product listings to be placed on personal websites, Amazon, and more.
My Top Product Listing Gigs on Fiverr:
Top Business Fiverr Services
18. Virtual Assistant Services
You have all heard of a PA or Personal Assistant, well you can now hire a virtual one. The job is exactly the same, but the assistant works remotely. It can be a great way to stay on top of your day-to-day tasks, outsourcing some of the administration to another professional. Here is a list of Virtual Assistance gig services you can buy on Fiverr to help in growing your business.
My Top Virtual Assistant Gigs on Fiverr:
19. Data Entry Excel Services
Let's face it, Excel can be confusing. Fortunately, there are people out there who have put hundreds of hours into understanding the many different formulae of the Excel spreadsheet. Therefore, if you need help with invoices, taxes, income, etc – there are dozens of experienced sellers on Fiverr who can help.
My Best Data Entry Gigs on Fiverr:
Other Affordable Fiverr Services
20. Create Featured Images for Articles and Blogs
A Featured image is one of the most important aspects on your blog post and an essential way to attract visitors to open the article. The image will be the visual representation of the post that it is assigned to. It's a known fact that content with relevant images gets way more views than content without relevant images. But if you are a content creator with no visual design skills, or simply you don't have time to focus on creating images, Fiverr is a great place to outsource this service. There are literally thousands of inexpensive image creation services you can choose from on the platform.
Here is a post featuring several Article Image Design gigs services that I personally bought for creating featured images on my articles. Also, one of the most visited articles on my blog features a banner created by a designer on Fiverr.
21. Pinterest Pin Designs
Pinterest can be very useful for your business and probably one of the best ways to diversify your digital marketing strategy. The best Pins are visually compelling, tell a good story and make people want to learn more about your business. Designing pins should be an easy and fast task with online graphic design tools such as Canva. But if you want to spend time on the other essential things of your business, it might be a good idea to to hire a Pinterest pin designer on Fiverr.
22. Find Topic Ideas for Articles and Blogs
Writing creative blog posts can be a lot of fun at first, but after a while, thinking of new blog topics can be quite stressful and time consuming. Whenever you are you out of ideas for blog posts it can be a real challenge to come up with the right topic to share with your audience. Luckily, you can find very affordable services on Fiverr offering to brainstorm some topic ideas or headline suggestions for you.
Below is a list with blog topic ideas related services that I constantly buy on Fiverr for my blog.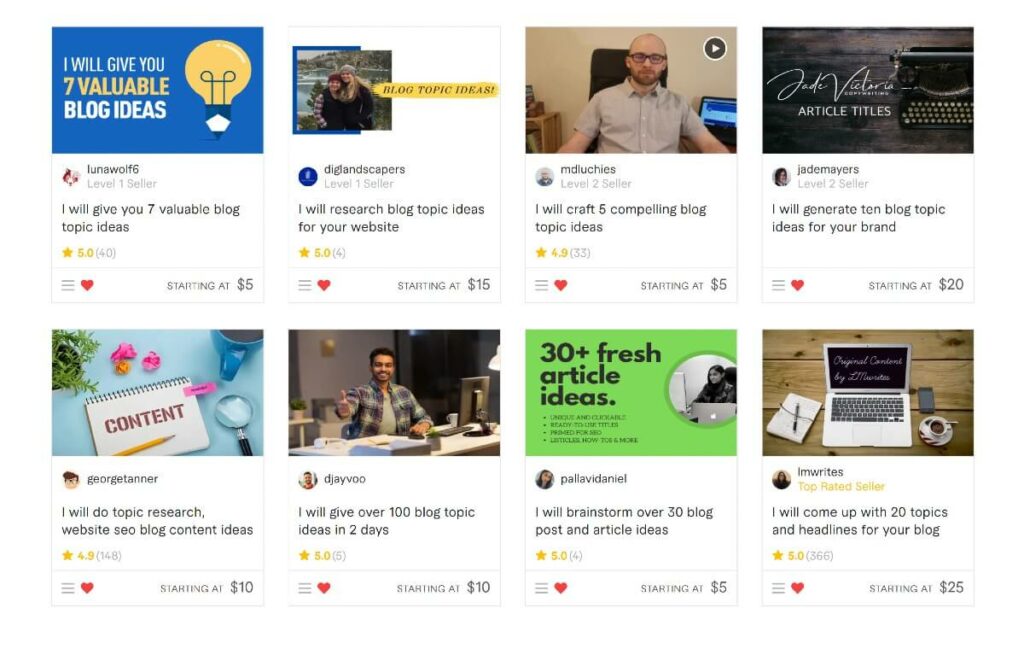 23. Short Translations
If you ever need to translate something into a non-native language you can use a free translation platforms such as Google translate or hire a human translator. Google Translate is great for quick translations that do not need to be perfect such as writing a message to your hotel before arrival or checking the menu of a restaurant while traveling. If you need to translate more serious stuff, such as legal documentation, a website, official documents, letters, or marketing materials you definitely need to hire a human professional to translate it for you.
Here are some Translation Fiverr Services you can buy.
24. Short Video and Audio Transcripts
Transcription is the process of translating and adding text to your videos and audio files. This can be done with automatic speech recognition technology, human transcriptionists, or a combination of the two. One of the best reasons for providing a transcript to your video and audio is to boost your SEO. Since search engines can't crawl video, the transcript provides valuable text that can be indexed and ranked.
Transcription services are cheaper than ever, and automatic transcription software services have forced prices down further. Years ago, transcribing an hour of audio could easily cost over $100, but today you could hire a freelancer on Fiverr to do this for less.
25. Image Background Removal
As of today`s internet era where everyone can set up an online store or even sell own products from any place around the globe, the way images are presented to the public counts. Removing the background from an image can be a tedious task, even if you've got software like Photoshop to hand. Luckily, on Fiverr you can find thousands of background removal services to choose from to get your images ready for your e-commerce and online retail shops, for Amazon, eBay, Etsy listings.
26. Web Analytics
What are web analytics? Web analytics revolves around the practice of gathering, reporting, and evaluating website data. Thanks to online tools such as Google Tag Manager you can make the analytics implementation easier, allowing you to add or update your website tags. GTM is a must for all websites and blogs that are serious about Internet marketing. If you need any help with google analytics and tag manager, you can easily find cheap web analytics services on Fiverr to help you out with any related task.
27. Small WordPress Tasks
I generally don't recommend outsourcing your heavy WordPress related tasks on Fiverr but if you need a quick fix related to WordPress customisation or if there is a small issue with your WordPress site, Fiverr is a good place to find some decent services.
Here is a list of WordPress development services you can buy for as low as 5$.
What not to buy on Fiverr
Fiverr is inundated with sellers promising that they can get you X number of followers and Y number of shares. Unfortunately, the vast majority of these are not as they seem. Most take advantage of spamming or bots to 'fake' these numbers. You should always opt for organic growth.
SEO Backlinks
A backlink is a link from another website that leads to yours. However, many people advertising this on Fiverr simply do not have the reach or pulling power that they claim. In short, you won't see much real traffic from your investment.
Gig Services that sound too good to be true
The old saying rings true – 'If it looks too good to be true… it probably is.'
Have you bought a quality gig Fiverr service? Feel free to recommend it in the comments below.