Taking that first step to becoming a freelance graphic designer is not easy, but when you embrace this lifestyle and choose to become your own boss, it can change your life for the better.
Not only are you free of the constraints of a 9 to 5, but you can make your own rules and choose a schedule that suits you. What's even better, especially for those with itchy feet, it means you can work anywhere in the world, earning your living from the comfort of your laptop.
You are not alone in your pondering to become a freelancer. According to Forbes, freelancers are likely to find themselves in more demand in the future, with 47% of hiring managers more likely to hire independent professionals since the COVID-19 crisis than there were in the future.
From a worker's perspective, becoming a freelancer is also the most viable option in terms of health and wellbeing, as social distancing and working from home becomes the new normal.
In short, this means there has never been a better, more lucrative time to venture into self-employment as the need for independent workers skyrockets. In fact, freelancers can earn between £200 and £400 a day, if not more.
For those whose craft can be achieved from a computer, it is an option that should be seriously considered.
This includes Graphic Designers, whose work revolves around the art of storytelling, developing and visualising ideas and concepts. This could be on large scales like advertising campaigns, or smaller scale projects like packaging, magazines or brochures.
Related Post: 24 Creative Logo Designers to Hire Online in 2023
Although many graphic designers work for businesses, doing work in-house, many actually already work as freelancers, meaning you can be rest assured that if you take the plunge to become self-employed there are clients out there who will hire you, you just need to get started.
So, the big question is: how do you even become a freelance graphic designer in 2023? How do you stand out from the crowd, and choose the correct rates that will get you noticed and offer you a comfortable wage to live on.
Top skills you need as a freelance graphic designer
To truly make it in the field, you first need to understand that freelancing doesn't just require industry-specific expertise. You also need the right set of skills.
Creativity
Design principles
Branding
Ability to Take Criticism
Time Management
Digital Marketing
How much should you charge for graphic design services?
As a point of reference rates charged by graphic designers on Upwork vary from $15 to $150 an hour, with an average rate of around $25 per hour. Typically, more experienced graphic designers will charge between $65 to $150 per hour. In contrast, more entry-level freelance design rates range from $15 to $50 per hour.
However, designers don't always bill hourly. It's also common for a designer or creative director to set a fixed price for the project, based on their understanding of project requirements.
10 Tips for how to start freelancing as a graphic designer
Whether you choose to become a freelance graphic designer full time, or pursuing it part time whilst continuing your day to day job, check out our tips below on how to become a freelance graphic designer 2023.
1. Do your research
We can't say this enough – Research, with a capital R.
Going into self-employment and starting your own business without vetting the industry, understanding what you're getting yourself into, and scoping out the competition, means you could fall flat on your face before you've even started.
We don't want to sound harsh, but it is important to express the importance of this first step.
Check out freelancing marketplace platforms online like Fiverr and 99Designs to gauge how graphic designers are advertising themselves, focusing in particular on those with consistent, high reviews – these people are clearly doing something right.
Suggested Post: Best Freelance Websites to Start Freelance Graphic and Design
Also take a look at online portfolios and the standards that the professionals keep when displaying their work. There's no harm in taking inspiration from them to give yourself the best chance possible.
A hugely important thing to consider is the rates you will charge clients. Again, spend time looking at fellow graphic designers' advertisements and see what they are charging. Bear in mind that it is all relative.
There is no set rate, but they often vary depending on experience and reputation. Start small enough so you will appeal to buyers, but big enough that you can earn a decent wage. From there, feel free to increase your rates incrementally as you gain more experience.
2. Find your niche
Although reading in the news that freelancers are in high demand, especially this year, is a positive thing for those just starting out, it also means that there is probably a surplus of graphic designers advertising their services and vying for the same job.
As a result, you must stand out and differentiate yourself and skills from the oversaturated market. To do this, the best place to start is to find your niche; your specialism in graphic design. From there, you can build your brand and focus your efforts on your specialist subject.
For designers who have previously worked for businesses, you probably already have an idea of where your expertise lies – so capitalize on that.
For new starters, begin to think about what aspects of graphic design you enjoy and, more importantly, which ones you excel at. If you're feeling stuck on what these may be, here are some specialisms you could draw on:
Visual Identity: this could involve logos, typography, colour palettes – anything you may associate with branding, and creating an identity and concept that is entirely visual for a business.
Packaging: small but mighty, packaging is an imperative part of any branding and product. The way an item is packaged could make or break whether it is a success. From cereal boxes to shampoo bottles to confectionery to make up – businesses, big and small, rely on talented people to bring their products to life.
Content Marketing: as the way we consume media becomes more digitally focused as opposed to traditional ink on paper, the need for graphic designers to create online guides, e-books, brochures, social media assets and email marketing templates, has never been more apparent.
UX/UI Design: for the designers that are fascinated by the websites and apps we use on the day to day, this niche requires graphic designers to visualise website concepts, app designs and interfaces to enhance user experience. For diving into how to start your UX/UI Design career, we recommend reading this detailed guide by Toptal, one of the leading marketplace for top freelance web developers.
There are many more specialisms that you can explore, but this is a good list to get started which will get you thinking about where you fit into the world of graphic design freelancing.
3. Top up your graphic design toolkit
Remember towards the end of the summer holidays, with the beginning of the new school year on the horizon, you would have your new pens, pencils, books and folders prepared and ready to get started?
Well, beginning a career in creative freelancing is no different.
Much like the dawn of a new school year, the impending start date of publishing your freelancing gig on various platforms should encourage you to evaluate the tools you have in your arsenal.
Using the proper programs should be high priority, so make sure your software is up to date and functioning as it should in order to keep up with your competition. Even better if you research your graphic design niche that we talked about earlier specifically, and figure out what other designers in your field are using.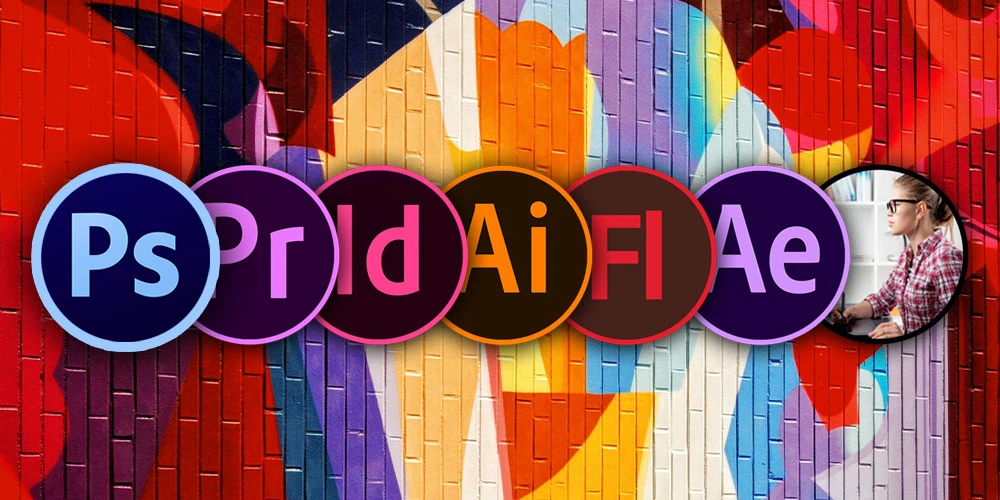 The fundamental tools of being a graphic designer include having the best graphic design tools like Adobe Creative Cloud: Illustrator, Photoshop, InDesign and Muse. Becoming a master of these programs will provide your clients with the courage to trust you with a project and highlight your experience in this industry.
Also, this may sound obvious, but ensure you can actually use said software. You are heading into a career with tight deadlines so don't let uncertainty and lack of training slow you down.
Plus, investing in new, shiny tools and programs can cause a huge, positive mindset shift and increase feelings of productivity – so, why not invest in yourself and your future.
4. Learning never stops
As well as researching the graphic design freelancing industry and updating your toolkit, make sure to spend some time refreshing your own skills and knowledge.
Actively set aside time once or twice a week that is dedicated to self-improvement, giving you the freedom to read articles, watch tutorials, attend webinars or take online courses on your niche.
Investing time, money and effort into your own learning will only help you in the long run. You can have all the new tools and programs you want, but you yourself need to be capable of using it.
5. Start your business
Hear us out, we know it sounds like we've skipped some steps here and gone straight to the biggest, perhaps scariest part of the process towards becoming a freelancer, but getting organised with the bureaucracy that comes with starting a business will pay off.
We're mainly referring to the financial aspect of becoming self-employed. Make sure that you're aware of the basic laws of owning a business, how to get work permits if you need them and stay on top of your bookkeeping and taxes from the very start.
Although a boring tip, it's also high priority. You can't live out your creative dreams without considering these things first!
6. Create your brand and increase your online presence
Having a stellar freelancing brand really comes with the territory of being a graphic designer. It is the perfect way to demonstrate your ability and, if done well could help you see success early on and get you noticed.
Here are some of the best ways to get your name out there and put your stamp online:
Self-branding: Concentrate on creating a great website, simple but recognisable logo, social media and maybe even merchandise. The key is to be consistent and for clients to associate your branding with you and your work. Include your contact information and rates across your platforms too – taking a multi-channel approach to your business opens you up to gaining more clients that interact with different platforms.
Build an online portfolio: proving your credibility as a graphic designer is hugely important in getting your first clients and building your online presence. People may be reluctant to hire you if you're brand new with no evidence of past projects and work. Use the platforms you have created – your website and social media – as well as freelancing platforms you may be using (i.e. Fiverr, 99Designs etc) to exhibit your work and client reviews. It is the best way to give clients an insight into your ability.
Be compelling: we spoke earlier about investing in the right programs and online courses to help further your career. This also applies to how you advertise yourself, so invest in a copywriter who can write a compelling, inviting description to draw clients to your profile. It may seem like an unnecessary extra cost but it is an opportunity to sell yourself and could be the difference between receiving orders and receiving nothing at all.
7. Network
You may be entering the world of self-employment, but that doesn't mean you no longer have co-workers or a vast network of like-minded individuals out there in the same position as you. So put yourself out there and get to know other freelancers, whether they're in your industry or not.
In the digital world, networking can take place on numerous platforms like LinkedIn, forums, online courses and group chats. Do some research and join online groups to discuss work, ask questions, ask for help and support and engage with one another.
This will also help in building your online presence as your name will become more recognisable to others in the same space. This could result in work referrals or group projects, something you do not want to miss out on.
8. Be sure you're insured
Another serious point that draws away from the creative, fun aspects of freelancing, but one that cannot go amiss. Once you have embarked on this journey, make sure you have the right insurance that will protect you as your work. It's not difficult to put in place, and once you have it you don't need to worry about it. It remains in the background of your career protecting you as you go.
Here are some insurance types to consider when starting out:
Professional Indemnity Insurance: this protects you in case a client deems the work you have produced or professional advice you have given as inadequate.
Employers' Liability Insurance: perhaps not relevant to most people reading this that are just starting out, but could be useful to keep in mind for the future if you expand your business. If you have staff in the future, this protects you if an employee blames the business on illness or injury.
9. Manage your expectations
Taking the plunge to become a freelance graphic designer is exciting, stressful, exhilarating and hard work. However, make sure to manage your expectations and don't let your emotions get away from you.
For total transparency, it is unlikely that you'll receive an email from a client as soon as you put yourself out there and advertise your graphic design services to the world.
Be patient. This is normal.
Being brand new means that algorithms may not be working in your favour just yet. Clients also have regulars they rely on for consistent work. Your moment will come, just bear in mind that it may not happen straight away.
Keeping the right mindset is a huge part of freelancing. Without the boundaries of a contract or the expectations of a boss to manage, your work output and ethic is entirely down to you, therefore you cannot allow yourself to succumb to negative, hopeless feelings. This could spark the end of a freelancing career before it's even started.
Have a positive, focused attitude and ensure you are financially stable to potentially not be earning for the first few weeks. Continue to work on your personal brand and portfolio, and your gig will begin to get noticed.
10. Enjoy the process
There are many parts to the process that are required to successfully become a freelance graphic designer in 2023. However, do not let that distract from enjoying the process to the fullest.
Remind yourself that you are embarking on a career that could mean you never have to work for someone else again, and the freedom that comes with that. This should be a fun, exciting process that could result in a hugely successful career if done carefully and correctly.
Conclusion
Take your time, do you best and follow these tips to help guide you through what needs to be done. Practice patience and recite affirmations to yourself to encourage you to persevere – your hard work, dedication and effort will pay off in the end and you'll be grateful for taking that first step in the first place.