When you're starting out as a freelancer, your portfolio is one of the most important tools at your disposal. It's often the first impression people have of you and reflects your ability to complete work professionally.
A strong and effective portfolio can put you on the fast track to finding steady work, building up your freelancing reputation, and advancing in your field.
But as a beginner, you don't have much experience or former projects to show off and may not know where to begin.
Here are 5 inspiring Freelance Portfolio Examples to get you started
As a freelancer, your portfolio is the center of your brand and marketing efforts and luckily, there are several great ways to build a successful freelance portfolio as a beginner.
5 Great (and free) tools to create your portfolio online
Pixpa

Pixpa is an easy all-in-one portfolio builder for freelance photographers, creators and small businesses to create stunning professional websites complete with a built-in online store, integrated blog, client galleries and much more. Pixpa also offers many pixel-perfect, modern and responsive templates to choose from.
Journo Portfolio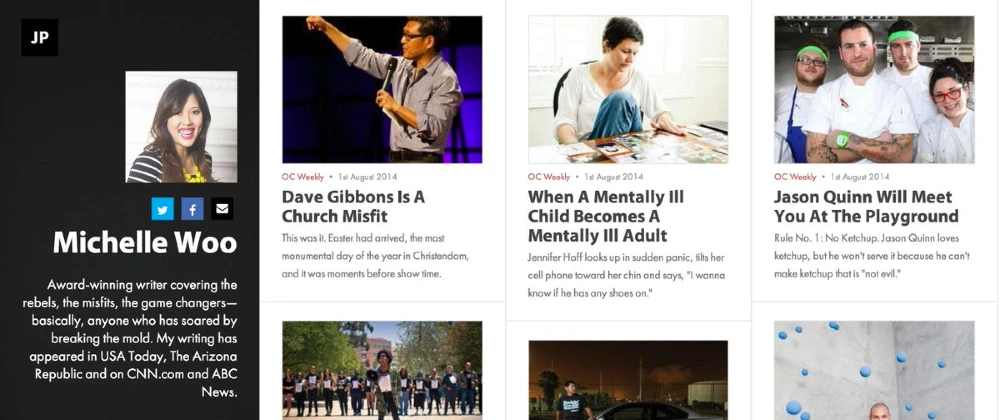 Whether you are a journalist, writer, copywriter, blogger or other creative freelancer, Journo offers a great portfolio tool to display your published content. The free plan includes a home page and 10 articles, it comes with plenty of perks, such as built-in Google analytics integration and several themes for users to choose from.
Behance

Behance is a platform where you can showcase your work to potential clients and build an online portfolio simply and easily. It is a space designed for graphic designers, illustrators, cartoonists, publicists, craftsmen, fashion designers, photographers, architects, web designers, sound designers and all those who want to make themselves known in the creative world.
Crevado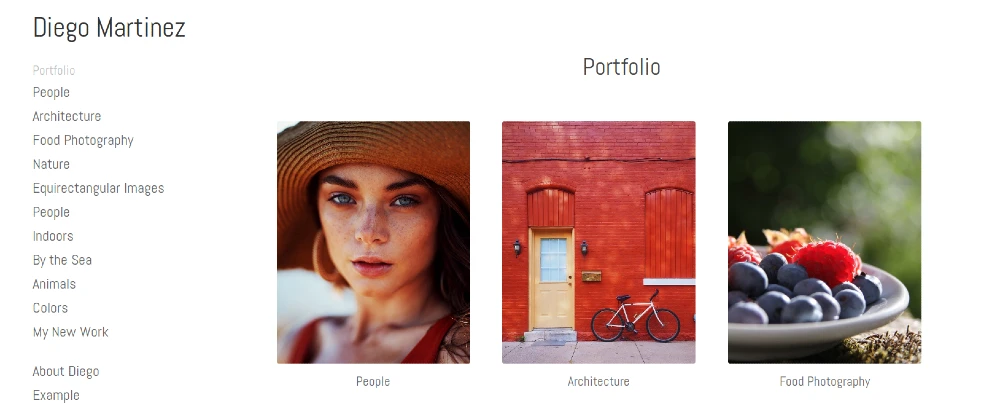 Crevado is another online tool which makes it easy for creatives such as Photographers, Illustrators, Videographers to create an online portfolio website so they can showcase their work online. Crevado is quick to set up and free to use, and you will get a one-and-done solution for hosting your work in a linkable format that you can share with clients and colleagues.
Fabrik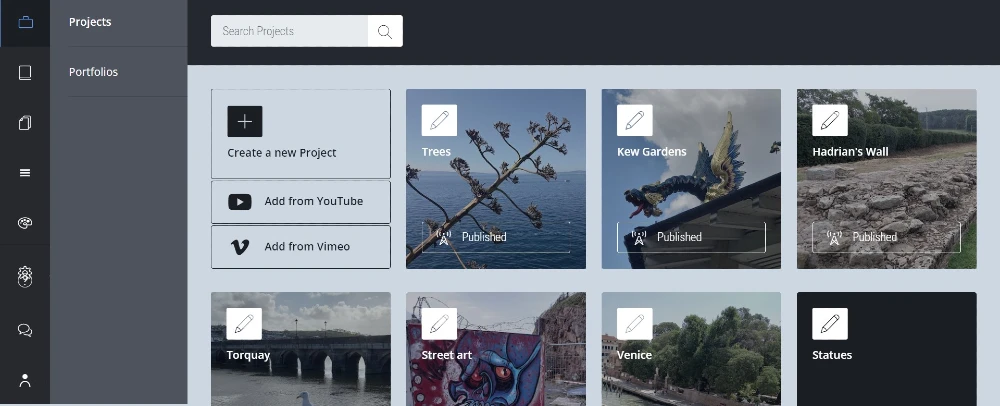 Fabrik is an online portfolio tool best for Filmmakers and 3D/CGI/VFX artists. Founded by an inventive team of London-based designers, developers and filmmakers, Fabrik sets itself apart with easy-to-use customizing and versatile design functions to suit the individual style of each creative. 
6 Tips for Creating an Excellent Freelance Portfolio
1. Keep Your Portfolio Simple
First, it's important to keep your portfolio simple.
You might be tempted to build a giant portfolio website with dozens of pages and lots of graphics and text to show off your work. But quite often, keeping it simple is more effective when it comes to getting new clients.
That's because in reality, most clients won't spend more than a few minutes on your website. So the simpler you can keep it, the better.
For example, consider building a one page website wherever you think your client needs is found on one page.
Or consider only showing 3-5 projects instead of 25+ from your years at University. That way, potential clients will be able to focus on your abilities and not the quantity of work you've done.
A simple e-portfolio that showcases your skills as a freelancer will give potential clients the confidence they need to hire you as soon as they see your work.
2. Showcase Only Your Best Work
As a beginner, you will probably want to focus on building out your portfolio with content that reflects your most recent work.
That means you should only showcase the best projects you've completed—even if there aren't many.
Don't show off 100 projects from class assignments just to fill the space. Instead, show of 3-5 pieces really well.
You'll also want to follow these guidelines when determining what to include in your portfolio.
This is not the time for quantity; it's time for quality.
3. Use Effective Copywriting
In order to sell yourself as a freelancer, you need to use effective copywriting techniques.
This means coming up with engaging titles and headings that play into your audience's interests.
It also means using creative language for the content of your write-ups and highlighting what makes you unique among other professionals in your field.
Start by focusing on the client, not on yourself. Instead of focusing on how great you are, focus on the results your clients were able to achieve because of the work you did with them.
Another way to sell yourself as a beginner freelancer is through personalization. People love hearing from real people, so make sure to address them directly in the copywriting in your portfolio.
4. Focus on Client Results
When creating your portfolio, keep in mind that what matters most are the results of your work.
You want to focus on how your client's project turned out and how it met their expected goals.
How did you help them make more money, bring in more leads, get more customers, or grow their marketing efforts?
It's not about showing off all the work you've done, but rather on showcasing the work that has a significant impact for clients and customers.
As you focus on the results you brought for former clients, potential clients who are visiting your portfolio will be more excited to work with you because they will appreciate that you understand what's most important in a client-freelancer relationship: results.
5. Make It Easy for Clients to Contact You
To build a successful freelance portfolio, it's important that you make it easy for potential clients to contact you.
This means making sure your website and social media profiles are active and updated regularly.
If there's a certain social media channel you don't want to monitor or use, then don't include a link to it on your portfolio site.
Instead, make it easy for clients to contact you on the channels you're most comfortable with and your clients are most likely to use.
Quite often, that means a contact form that sends an email directly to your inbox. But depending on your target audience, it could also mean a Facebook Messenger widget, a phone number they could text, or an on-site chat widget.
Some more advanced Freelancers recommend having an in-depth contact form the client has to fill out before contacting you.
But for beginner freelancers, it's important to lower the barrier to contact as much as possible. Don't ask a million questions on the form, and don't give them a chance to second-guess contacting you.
Remember, it's all about making it as easy as possible for your clients to contact you and hire you. Once you're further along in your freelance career, you can start to get more picky about who contacts you. But for now, you want as many leads as possible.
6. Respond Quickly when a Client Reaches Out
Finally, it's important that you respond quickly when a client reaches out.
One of the biggest complaints clients have about Freelancers is their inability to communicate.
If you can show that client communication is important to you, that you respond to emails and messages quickly, and that you're excited to talk with your clients, that will go a long way in setting you apart from your competition.
If you want to, you can set up autoresponders and use other software to automate your responses. But clients can tell when they are being responded to buy a robot, instead of you personally. So go easy with the technology, and go the extra mile to actually communicate with clients, especially as a beginner.
Next Steps
Hopefully this list of ideas help to identify a few things you can do in your beginner level freelance portfolio. If there are things you need to change, I encourage you to change them quickly and make progress. If you haven't yet started building your freelance portfolio, hopefully you can save a little bit of time and stress by following some of the tips in this article.