For professional artists, having the best drawing markers can make all the difference. Whether you're a traditional artist, illustrator, graphic designer, manga artist or just an avid doodler, with the right set of art markers you can ensure that your drawings look professional and well-crafted, giving them the perfect finishing touch. Not only are they great for creating detailed artwork but quality markers also provide endless possibilities for creative expression. Whether it's sketching a portrait or coloring an intricate pattern, marker pens can help bring your ideas to life.
Markers come in various colors, textures, shapes, and sizes, so it's important to choose the ones that allow you to create that perfect artwork you would proudly hang on your wall. They are also great fun for children using them in a coloring book! Cheap markers such as Crayola are specifically designed for kids and provide a safe, non-toxic way for even the youngest children to explore their drawing skills.
There are certain characteristics you'll want to look for when selecting your marking pens. In this blog post, we'll discuss the best markers for artist professionals and what sets them apart from other types of markers.
Here at Huntlancer, we strive to stay up-to-date on the latest trends in art, design and multimedia. We are dedicated to engaging with artists to grow our network and constantly featuring new products that properly reflect the vision of these talented creatives.
What marker types are best for creating art?
Art markers come in a variety of types, all helpful for different drawing purposes. The most common types of markers professional artists use are alcohol-based and water-based.
Alcohol-based markers, also known as Permanent Markers tend to be more expensive but in the same time they are more fade-resistant and have a more vibrant color range than water-based ones. They also blend more easily with each other and dry quickly without smudging. However, alcohol-based markers produce a strong odor which can be unpleasant for some people.
Water-based markers on the other hand are cheaper, have less odor but may not be as fade resistant or blendable as alcohol-based ones. As such, they are often preferred by those who are looking for an affordable alternative to costly professional art supplies.
Things to consider when choosing a good marker
Size and Design
Tip Shapes
Color Range
Blending
Lightfastness
Price
Best Alcohol Based Markers
Copic Sketch Markers and Sets
Copic brand is one of the most popular and sought-after artist markers out there. It is a Japanese brand that was originally developed for use by the Manga artist community in the late 1980s. The Copic marker alcohol-based ink is non-toxic, durable, long lasting, and vivid, making them an excellent choice. Unlike other brands, Copic Sketch markers can be refilled with separate bottles of ink that can be purchased separately. That's one of the biggest reasons why they're more expensive than other brands as you only need to buy it once and recharge it whenever necessary. Copics have become the first choice to professionals but if you can't afford them we advise trying the other brands in our list.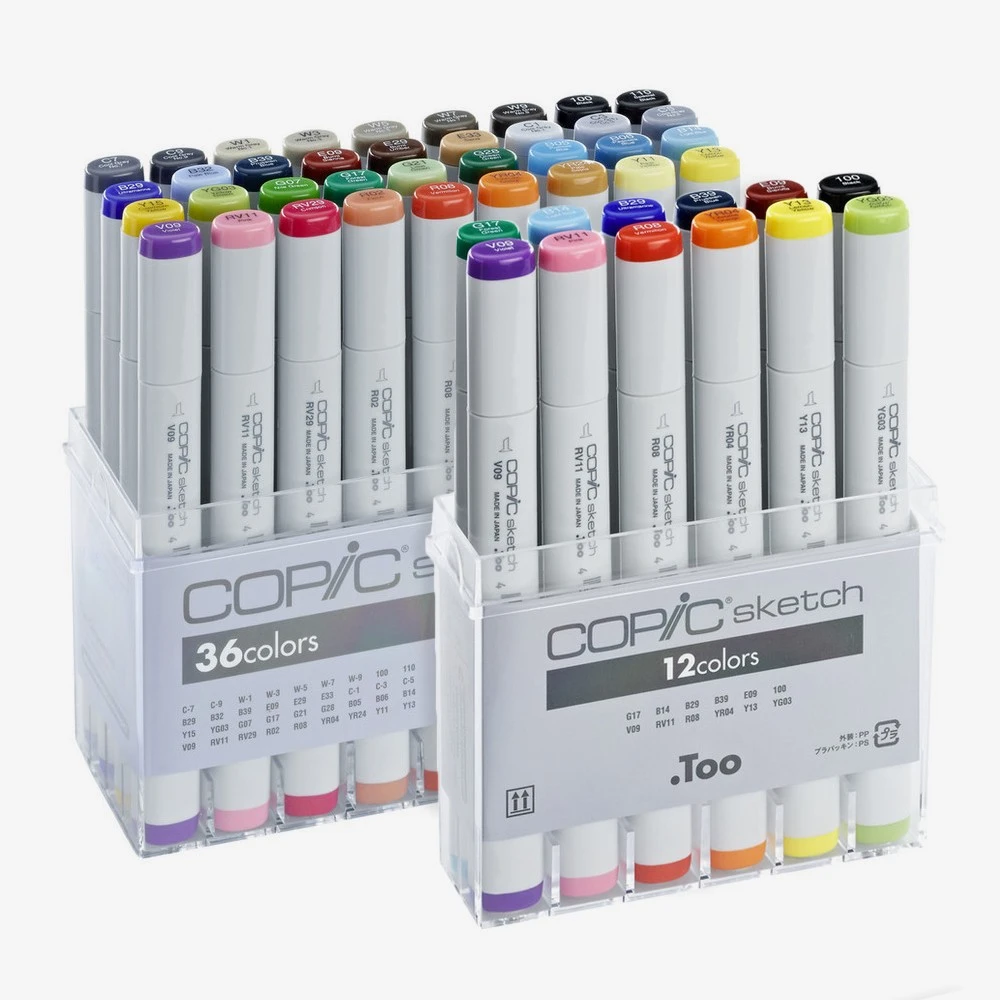 Copic Sketch Benefits:
dual tip (brush and chisel)
versatile brush nib
ergonomic flattened-oval shaped barrel
great blending
refillable
---
Blick Studio Brush Markers and Sets
The Blick markers are alcohol-based, have a replaceable brush and chisel nib, and look similar to Copic markers. They are less expensive than the Copic Sketch, even more affordable than Prismacolor. Copic Sketch has a much wider color range, but their largest set still has 144 colors plus a colorless blender, more than enough for most people. Their ink is good quality and the brush tip feels similar to Copic and Prismacolor.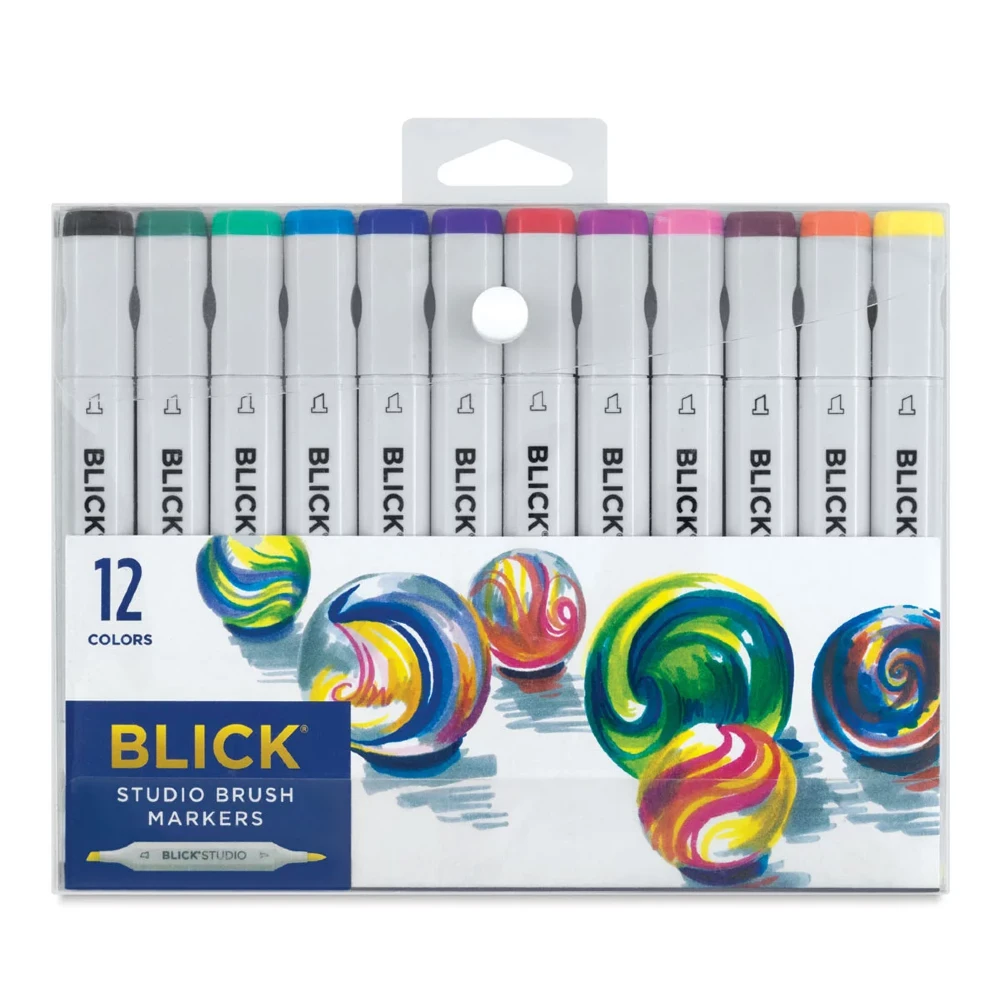 Blick Studio Brush Benefits:
refillable
great lower-cost alternative
water and fade resistant
---
Ohuhu Markers
Ohuhu markers are a great alternative, much more affordable than Copics and even cheaper than Blick Studio Markers. However, the nibs cannot be replaced and tend to fray much more quickly than the pro-level markers. Also they're only available in sets and cannot be purchased individually. Ohuhu markers are great for coloring and they are often considered to be the best art markers for illustrators.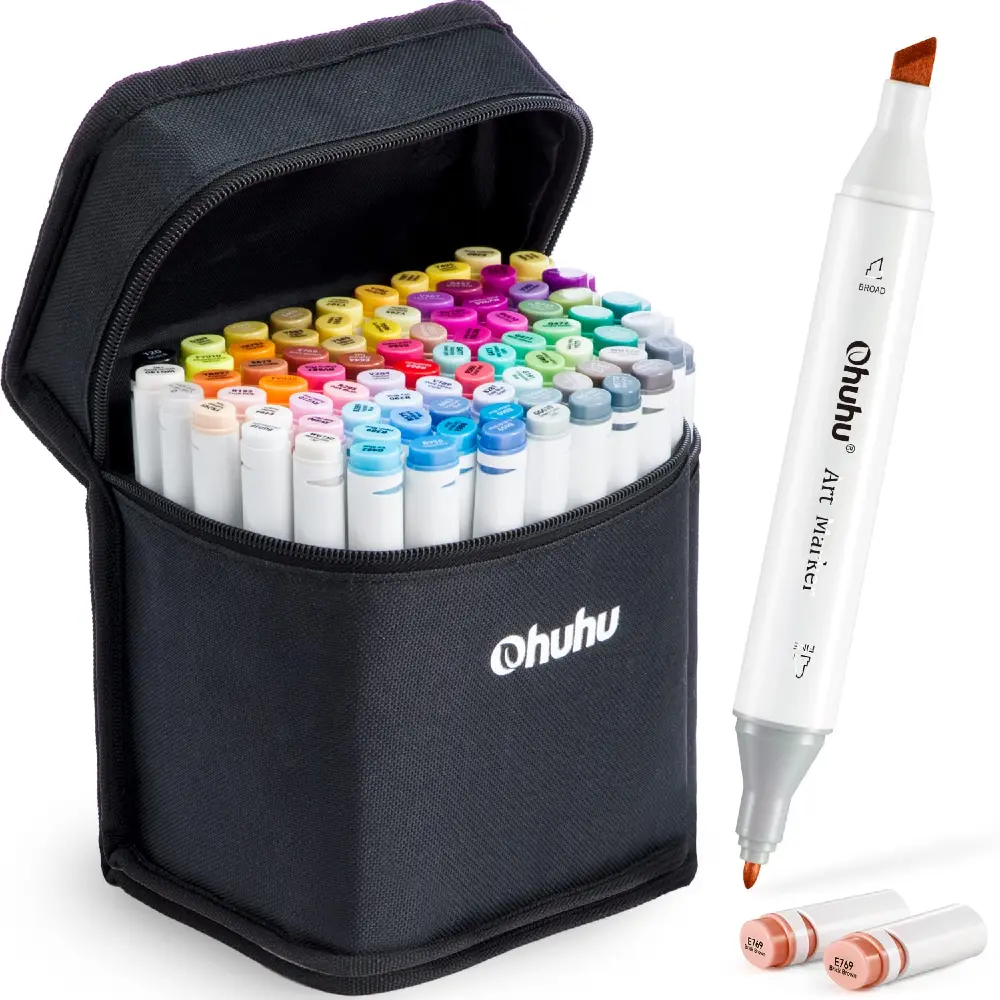 Ohuhu Benefits:
affordable price
light shades are blendable
dual tip (chisel and fine)
Impressive lightfastness
---
Prismacolor Premier Double-Ended Art Markers
Suitable for beginning and experienced artists, Prismacolor is a very reliable brand offering a huge range of colors and are dual-tipped. They are available in open stock, they cost less than the Copics but don't have replaceable nibs. Their ink is alcohol-based, acid-free, lightfast, and fade-resistant and has unmatched color constancy.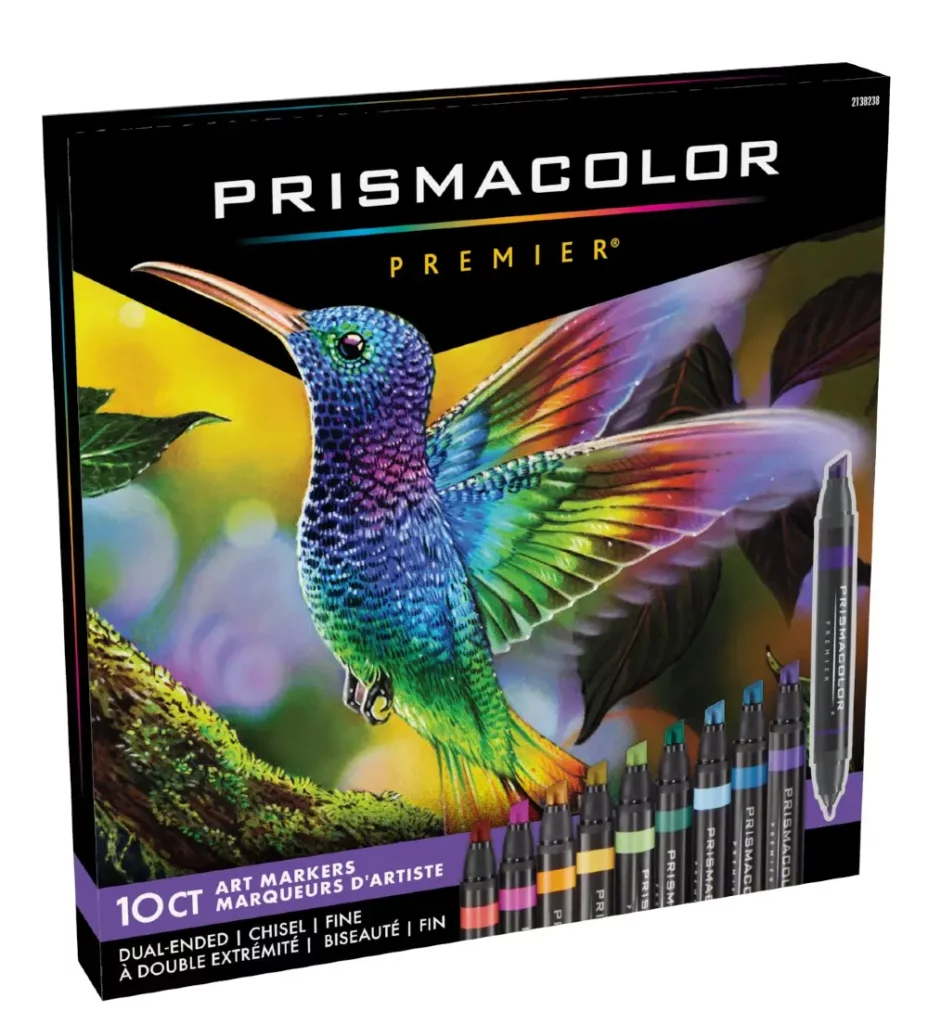 Prismacolor Premier Benefits:
ergonomic barrel
comfortable in hand
great blending
incredibly versatile
colors are vibrant
Fine tip ideal for precise, detailed work
---
Shuttle Art Dual Tip Alcohol Based Art Markers
For aspiring artists new to markers, this package of 88 markers is excellent. The marker pens have both a 7mm broad tip for quick coverage and a 1mm pointed bullet tip for detail drawing, shadows, bullet points or sketching. Shuttle Art Dual Tip Markers are easy to blend without leaving streaks behind and also dry quickly.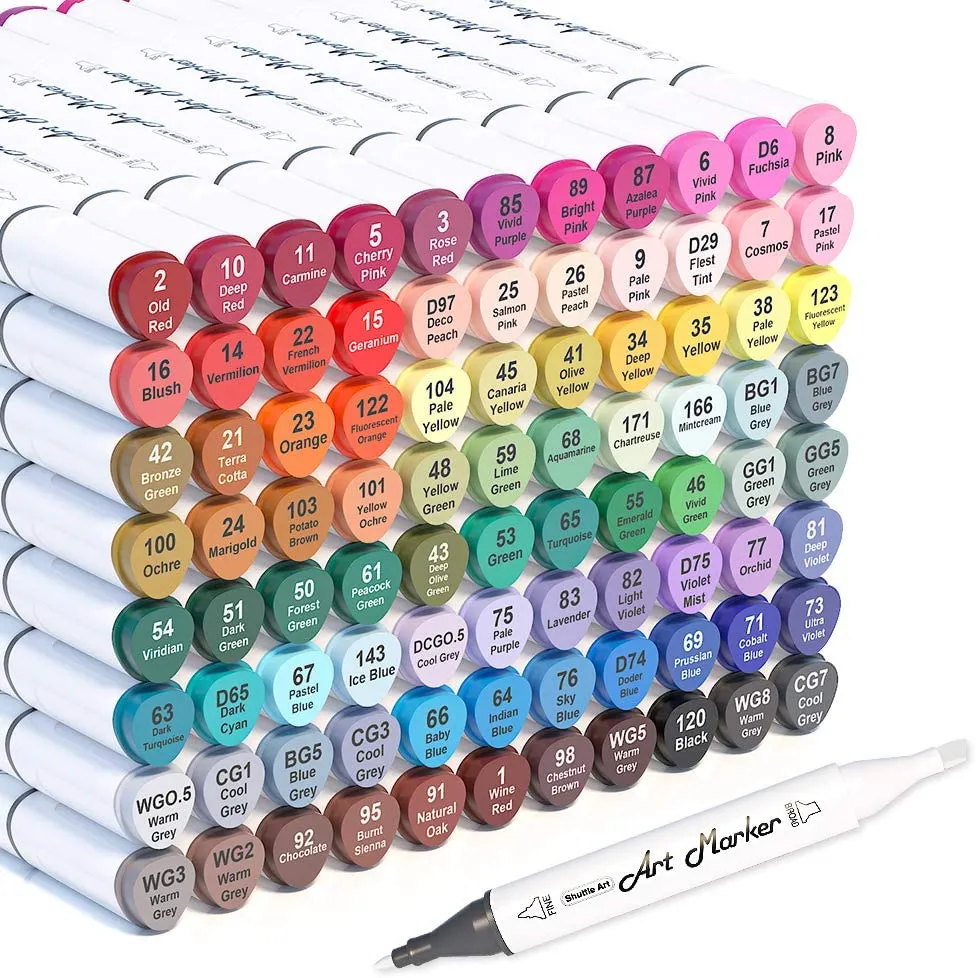 Shuttle Art Dual Tip Benefits:
affordable price
blending pen included
great ink durability
triangular-shaped barrels
---
Best Water-Based Markers
Winsor & Newton Promarker Watercolor Markers
Winsor and Newton are appreciated by a huge range of artists internationally. They have a professional quality paint, have a very high pigment load and vibrancy and if you want a lightfast watercolor marker they are a great choice. They are also great for brush lettering styles and painting.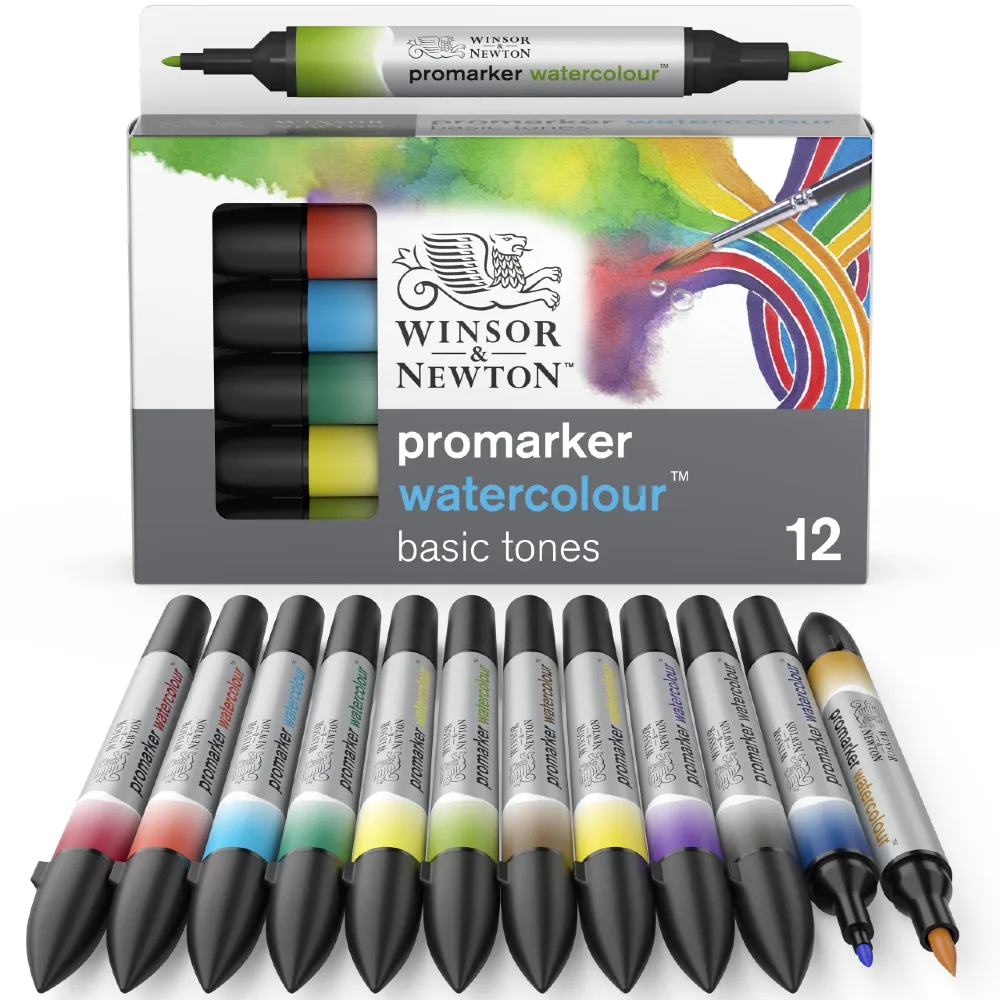 Winsor & Newton Promarker Benefits:
Lightfast
Clean saturated color
Dual tip
---
Faber-Castell Albrecht Durer Artists Watercolour Markers
These marker pens are perfect for artists of all skill levels. They are made in Germany and you can buy them in sets of 5, 10, 20 and 30 as well as individual. These pens use india ink, a waterproof, odorless and lightfast material.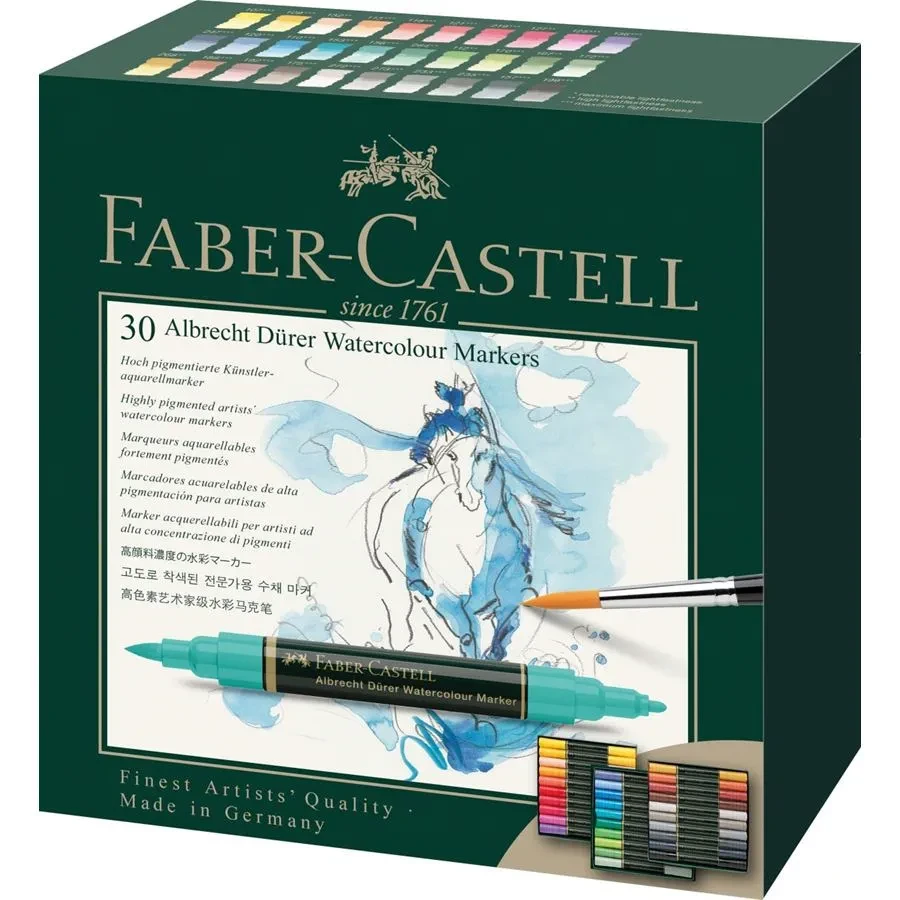 Faber-Castell Albrecht Durer Benefits:
great colors
feels great in the hand
uses india ink which is bleedproof, waterproof, odorless and lightfast
premium packaging
---
Kuretake Zig Art & Graphic Twin Markers
The Art & Graphics are a water-based dye ink, xylene-free and odorless, the perfect combination of brush-pen and fine-tipped-pen. The rubber brush tip does not split, unlike most fibre tip markers. They are ideal for sketching, illustration, design, cartoons. and their ink and tip styles also make them great for use in coloring books.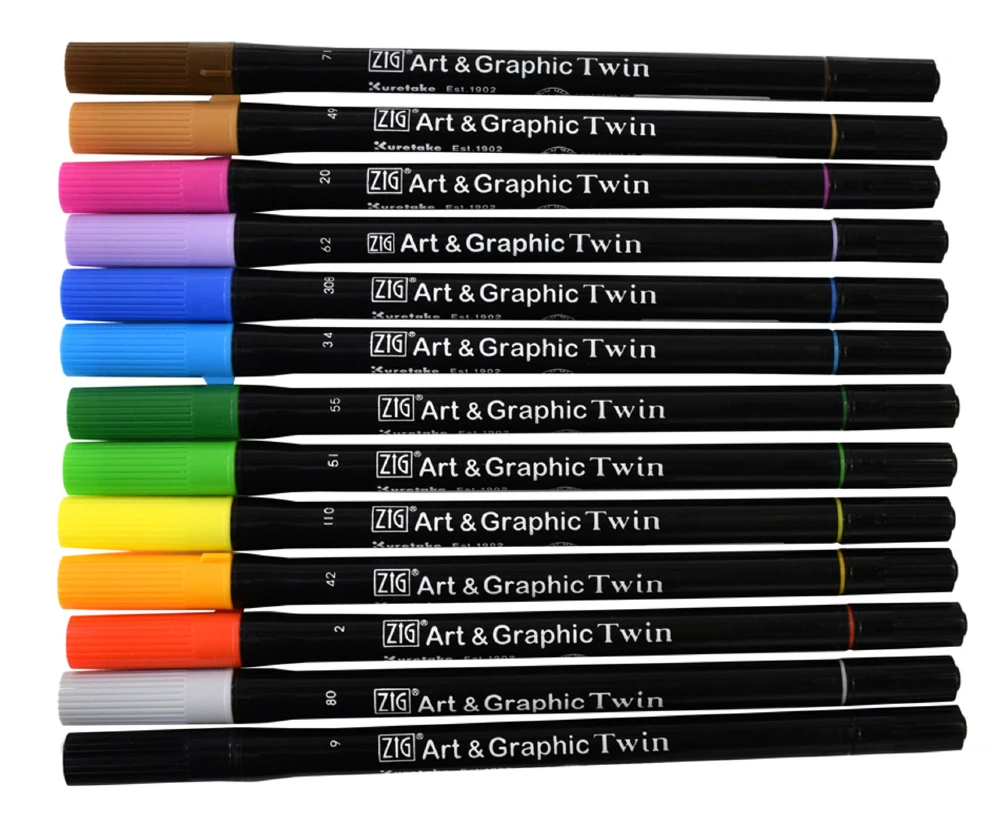 Zig Art & Graphic Twin Benefits:
double-ended
affordable price
impressive amount of colors
---
Tombow Primary Dual Brush Pens
Dual Brush Pens are ideal for artists and crafters. The water-based ink is blendable and the resilient nylon brush retains its point stroke after stroke. They are ideal for hand lettering, watercolor, fine art, illustrations, doodling, journaling and coloring.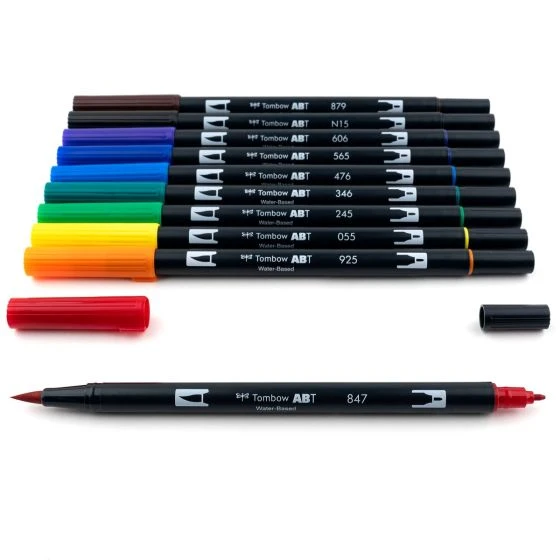 Tombow Primary Dual Benefits:
dual tip (brush and fine)
versatile and vibrant colors
bright pigments
minimal bleeding and odorless
great for beginners and experts
---
Arteza Real Brush Pens
Arteza watercolor markers are some of the best-rated brush pens on the market. Just as their name says, these markers have a real brush as their tip. It can be used in fine lines and precise coloring or you can give more pressure for wider lines and a more brush like stroke. They are easy to use and cheaper than the other alternatives on the market.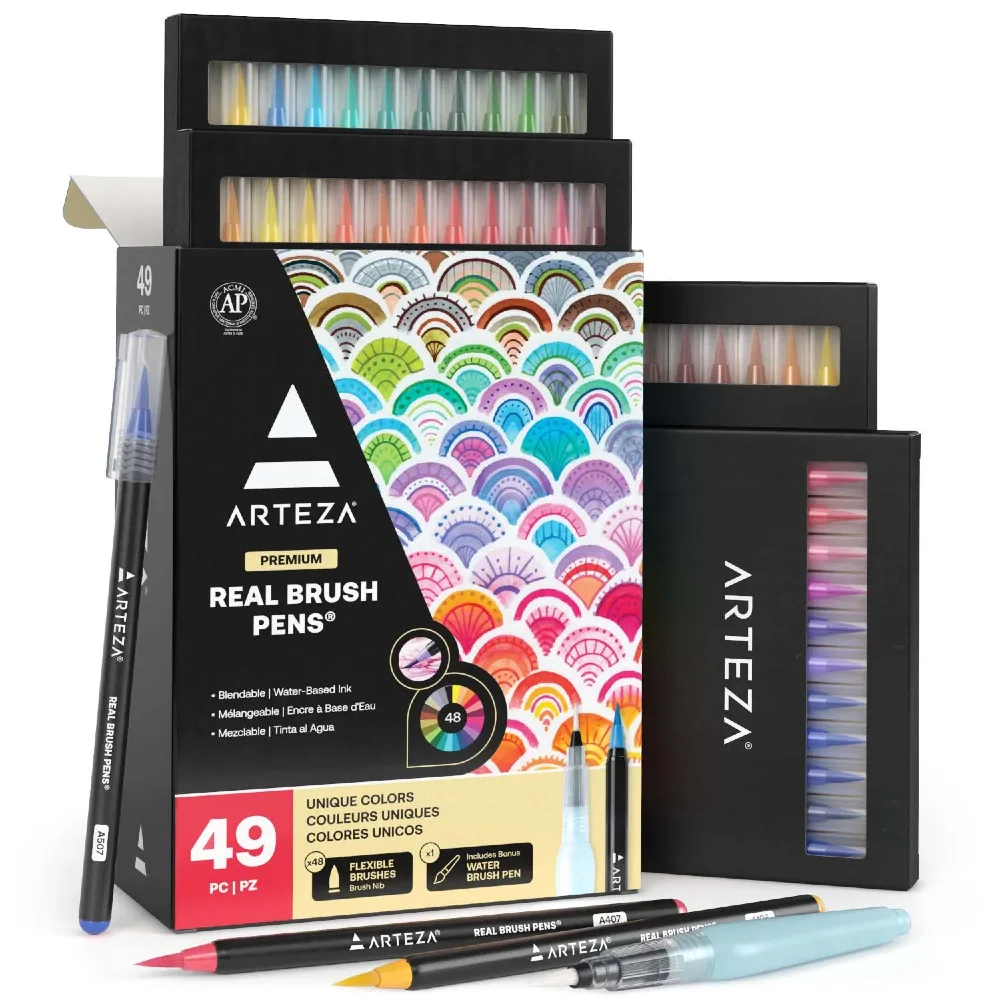 Arteza Real Brush Pens Benefits:
beautiful vibrant colors
don't bleed through the paper
affordable price
---
Conclusion
Whether you're an experienced artist or just starting out in this creative field, having the right marker is essential for creating stunning artwork. With so many marker brands available on the market today it can be hard to choose the right one. By considering factors such as ink quality, ergonomic design and interchangeable tips you'll be able to find the brand that meets both your creative needs and budget.