Starting your own art studio is a rewarding experience, whether you're a painter, sculptor, illustrator or any other kind of artist. Every art studio from the room in your home to a dedicated space in a larger workshop, requires a set of all the necessary tools. From paints, brushes and canvases to charcoal and other drawing materials, there are a number of items that are crucial for any artist looking to express their creativity. But knowing which art supplies and brands are best on the market can be a challenge, especially for those just starting out. That's why we've put together a comprehensive guide with the best art supplies every artist, beginner of professional, needs in their studio.
Here at Huntlancer, we strive to stay up-to-date on the latest trends in art, design and multimedia. We are dedicated to engaging with artists to grow our network and constantly featuring new products that properly reflect the vision of these talented creatives.
Essential Art Supplies For Every Artist
Wooden Easel
Easels provide a neat surface for painting and drawing as well as a great way to display your artworks. There are many different types of easels available, from wooden to aluminum models. Wooden easels are the most popular choice for artists, as they are sturdy and durable.
H-Frame Studio Easel
This Wooden H-Frame Studio Easel is solid, flows easily it has an adjustable height mast that allows it to accommodate a canvas up to 48″ high. It doesn't take up too much space, it weighs about 50lbs and very easy to move. The finished wood is made of high quality.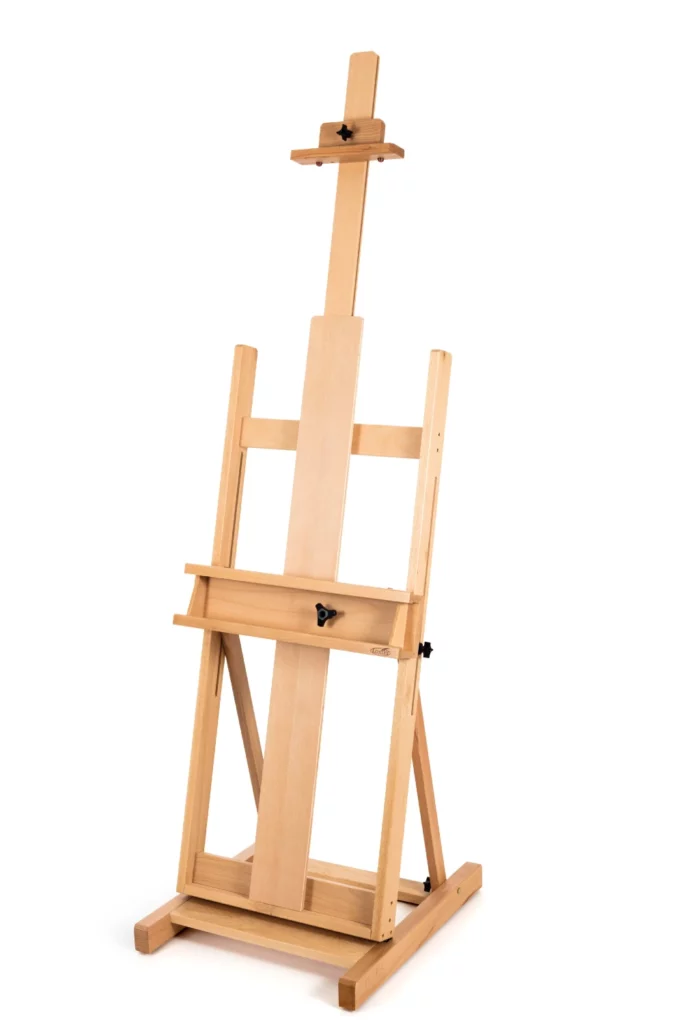 ---
Canvas
Canvas is a durable painting surface used for centuries by many great artists. Canvas are professional, sturdy, easy to hang on the wall and often more affordable than other painting surfaces, such as wood panels or boards. When selecting your canvas, you need to consider the size of your artworks.
Fredrix Polyflax Red Lion
The Fredrix Red Lion Canvas provides a consistent working surface, doesn't shrink, it is very stable and doesn't need to be stretched before painting. It is made of a poly/flax material, stronger than natural fibers.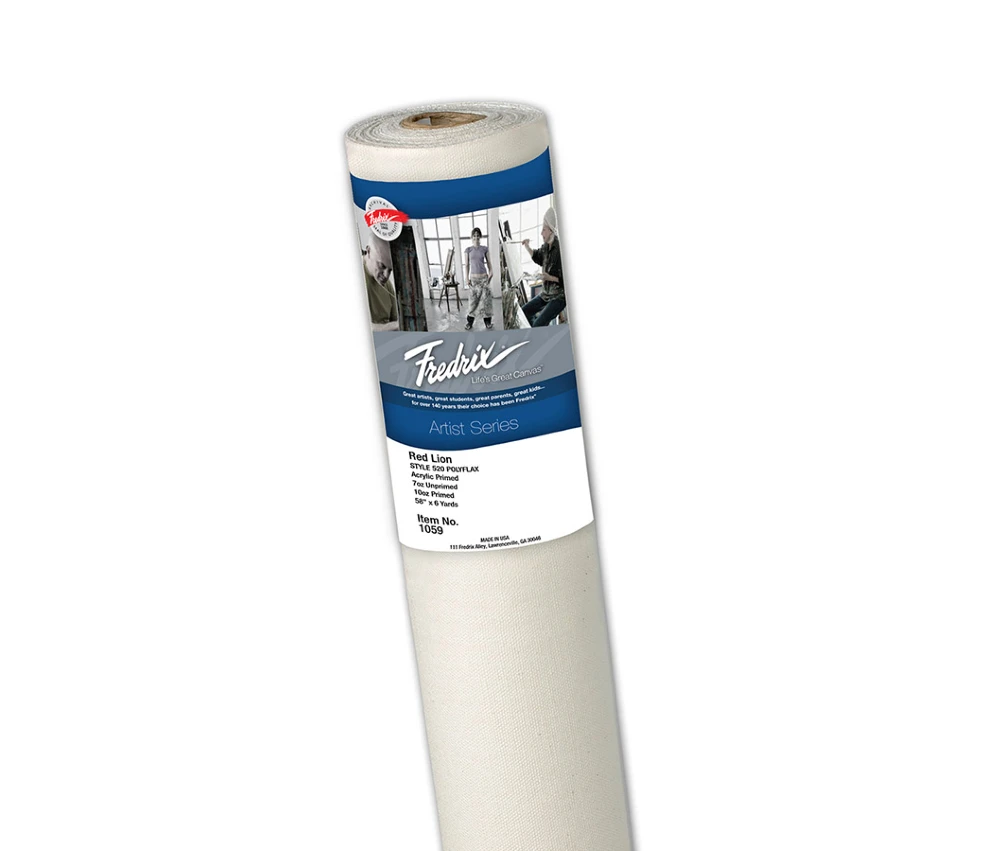 ---
Best Paints to Have in a Studio
Having the best paints is essential for any painting artist. Pastels are great for creating a unique and distinctive texture that other paints cannot match. Acrylic paints are good for creating bright and vibrant colors and are easy to mix and blend. Watercolor paints are perfect for creating subtle and delicate works of art. And with oil paints you can create beautiful, lifelike details and depth. Investing in high quality paints will definitely serve you well in the long run.
Pastels: Sennelier Cardboard Oil Pastel Set of 24
Sennelier oil pastels are top quality and purchasing them will never be a mistake. They are smooth, infinitely blendable and overall wonderful to work with. The colors are incredible, with lots of pigment loaded into each stick. They are a bit on the expensive side but totally worth it if you can afford it.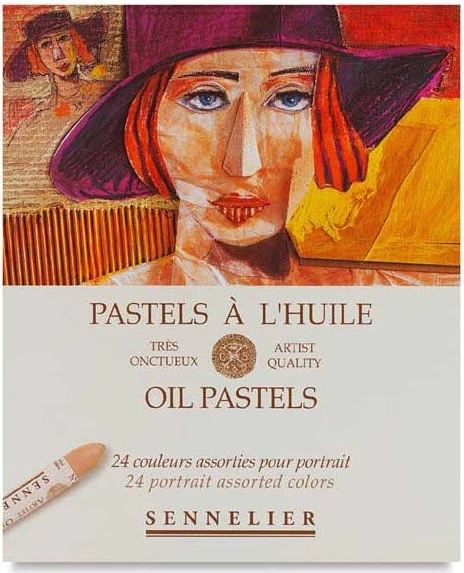 ---
Watercolors: Kuretake Gansai Tambi Watercolor Set of 48
Kuretake Gansai Tambi Watercolors are handcrafted, professional-quality Japanese watercolors with a highly blendable, creamy-smooth consistency. They are highly pigmented and colors are bright, vivid and are fun to use. The 48 pan set is luscious and works well on either cold press or hot press paper.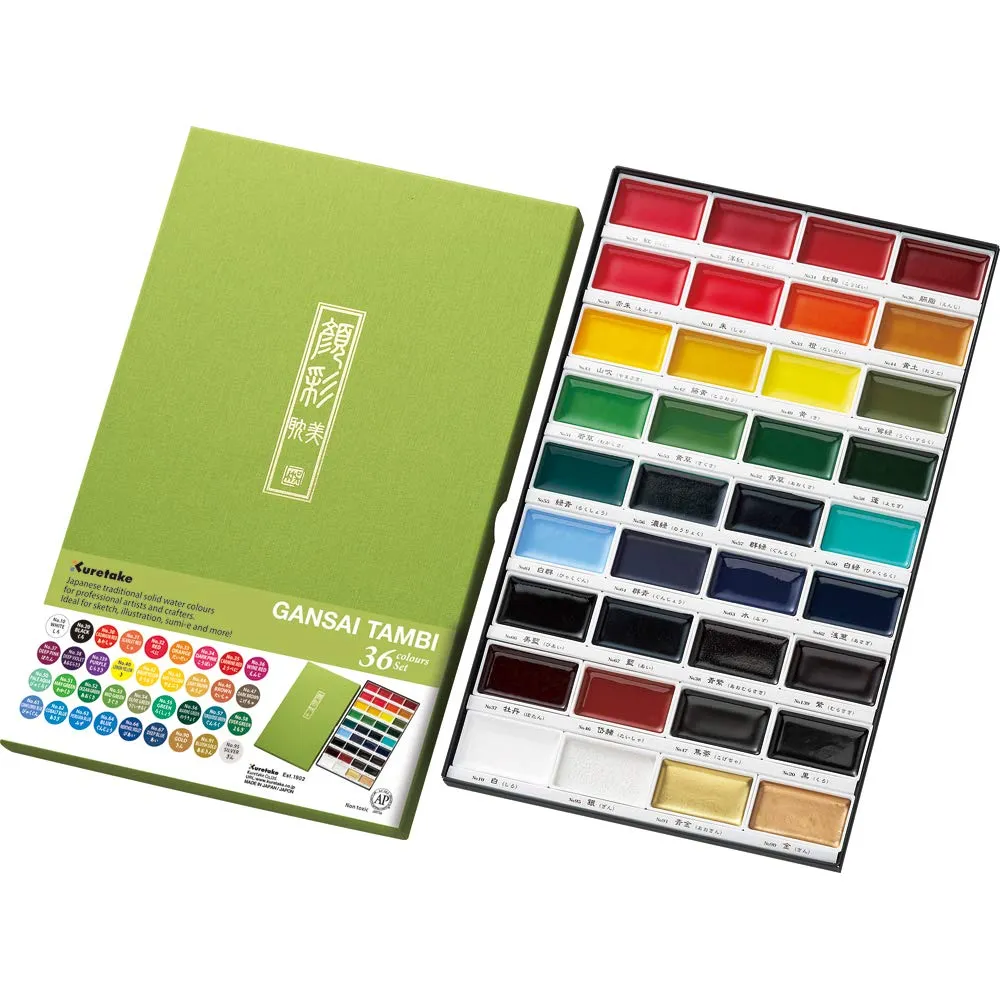 ---
Acrylic: Golden Color Mixing Set of 8
The Classic Theory Color Mixing set from Golden is a good professional-grade one with vibrant colors and smooth oil. The consistency is remarkable and enjoyable to paint with. You'll totally love them.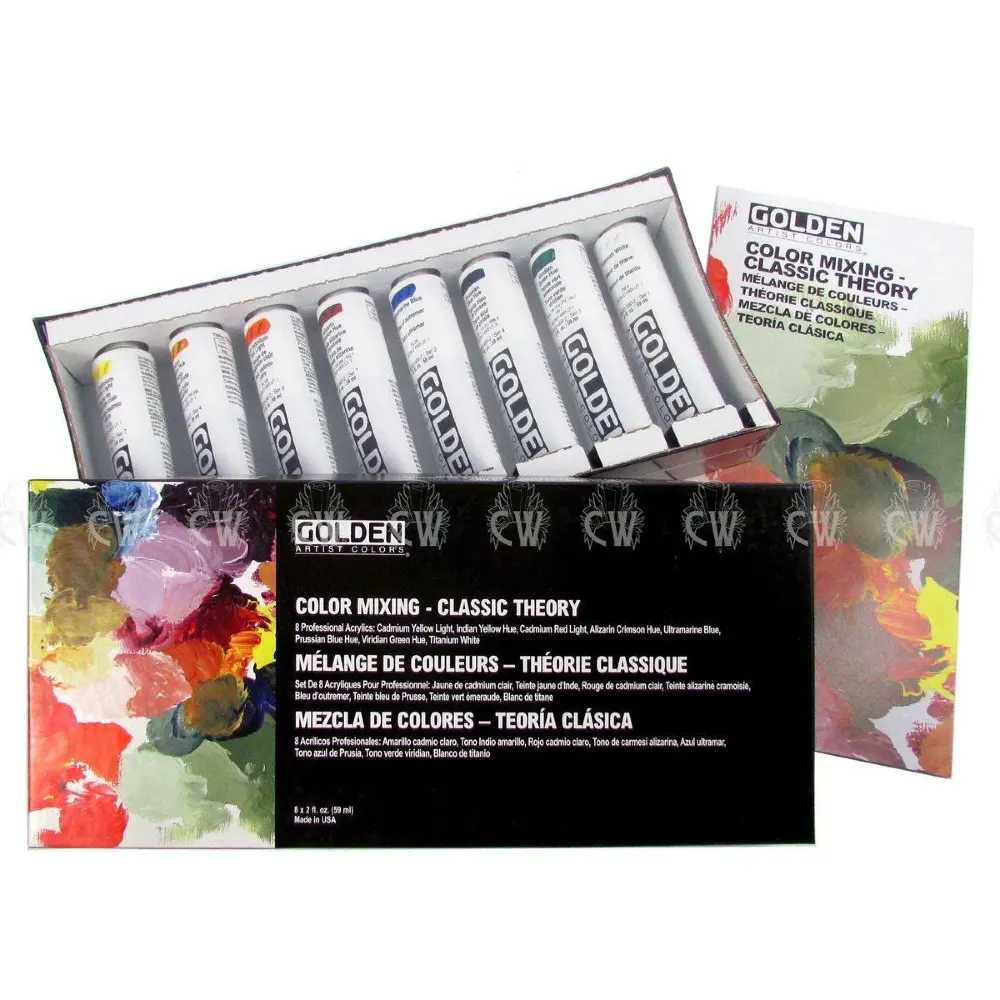 ---
Oil Paints: Grumbacher Multicolor Set of 10
Grumbacher pre-tested oils are excellent quality paints and this starter set is a nice introductory one for oil painting. It is also a good choice for professionals as well. They have a great creamy feel and appearance when thinned with other mediums and they keep their individual character when used in glazing and textured techniques. Perfect for any artists that are not making their own oil paint from scratch.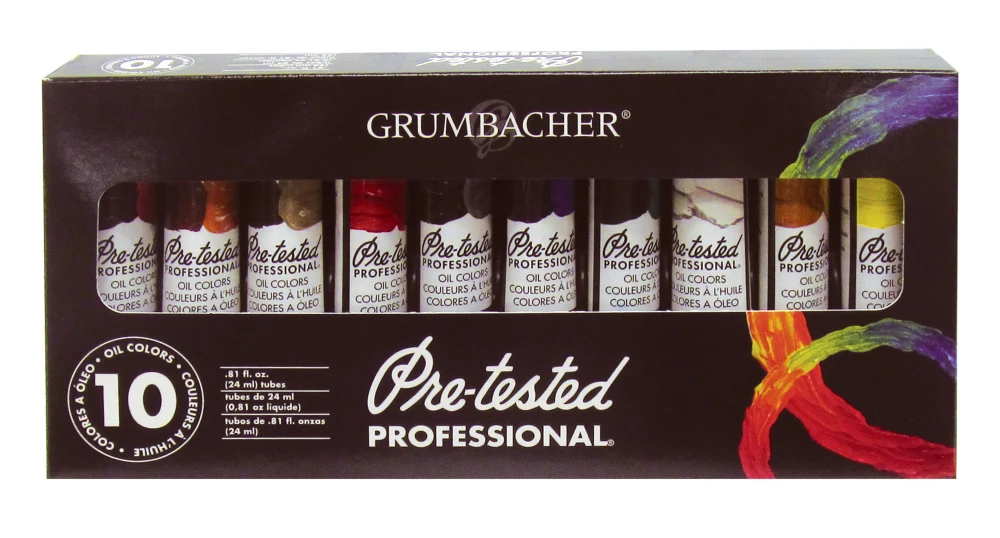 ---
Hith-Quality Paint Brushes
Buying good quality brushes is an essential aspect in bringing your artworks to life. Brushes make a huge difference in how your artwork turns out. Cheap brushes can leave streaks in your paint and the bristles can fray quickly. High quality brushes are designed with superior materials allowing the bristles to hold their shape and texture and keep the paint from spreading too much.
Da Vinci Universal Brush Sets
Da Vinci brushes are handcrafted in Germany at a family-owned factory. Great for for young artists, ideal for use with acrylic paints, oils, watercolors, and mixed media.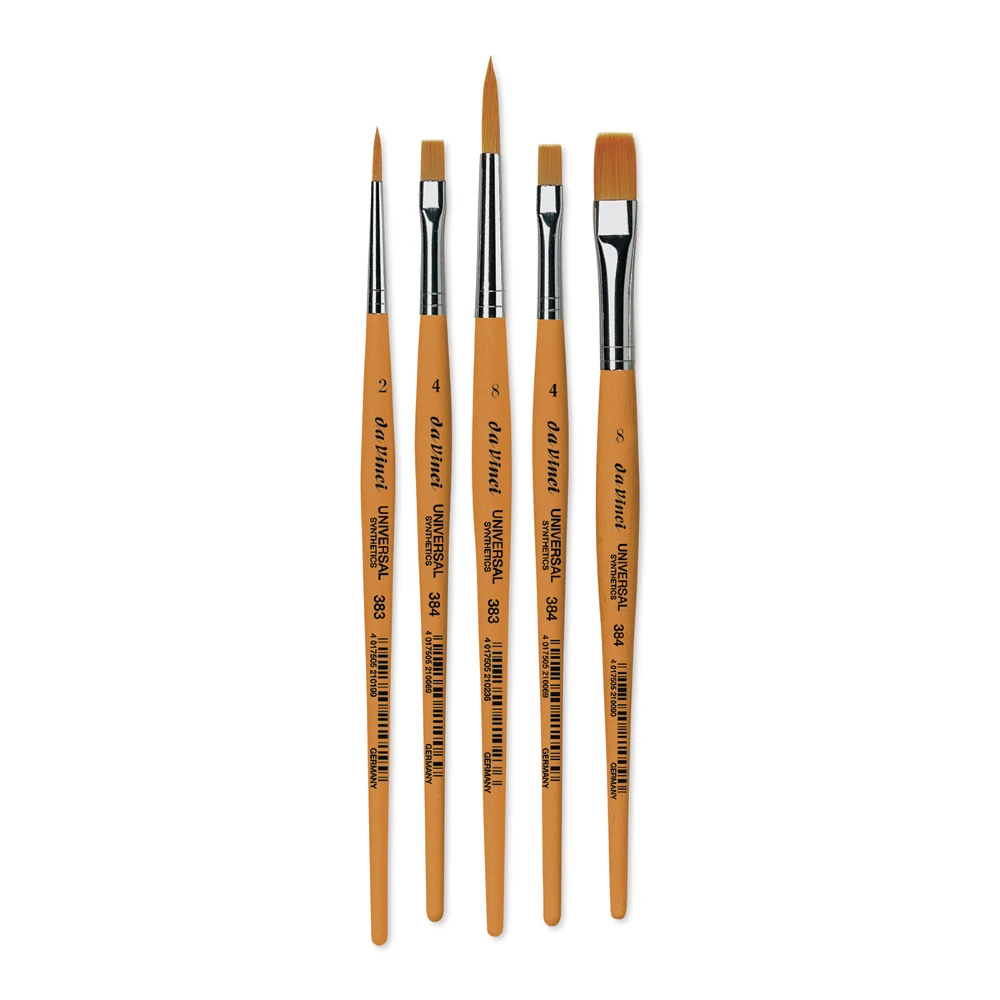 ---
Palette, Paint Scraper and Palette Knives
Palettes form the main part of a workspace. It's a flat surface usually made of glass, wood, stone or plastic used for mixing and blending colors. Having a quality palette can greatly improve the quality of your painting as it ensures the colors come out brighter and more vibrant. The paint scraper helps to keep your surfaces clean and palette knives help creating unique textures and effects which can be integral to a finished piece.
New Wave Posh Glass Tabletop Palettes
The POSH Glass Artist Palette has a large smooth surface area which makes oil paint mixing a joy. Very easy to clean too.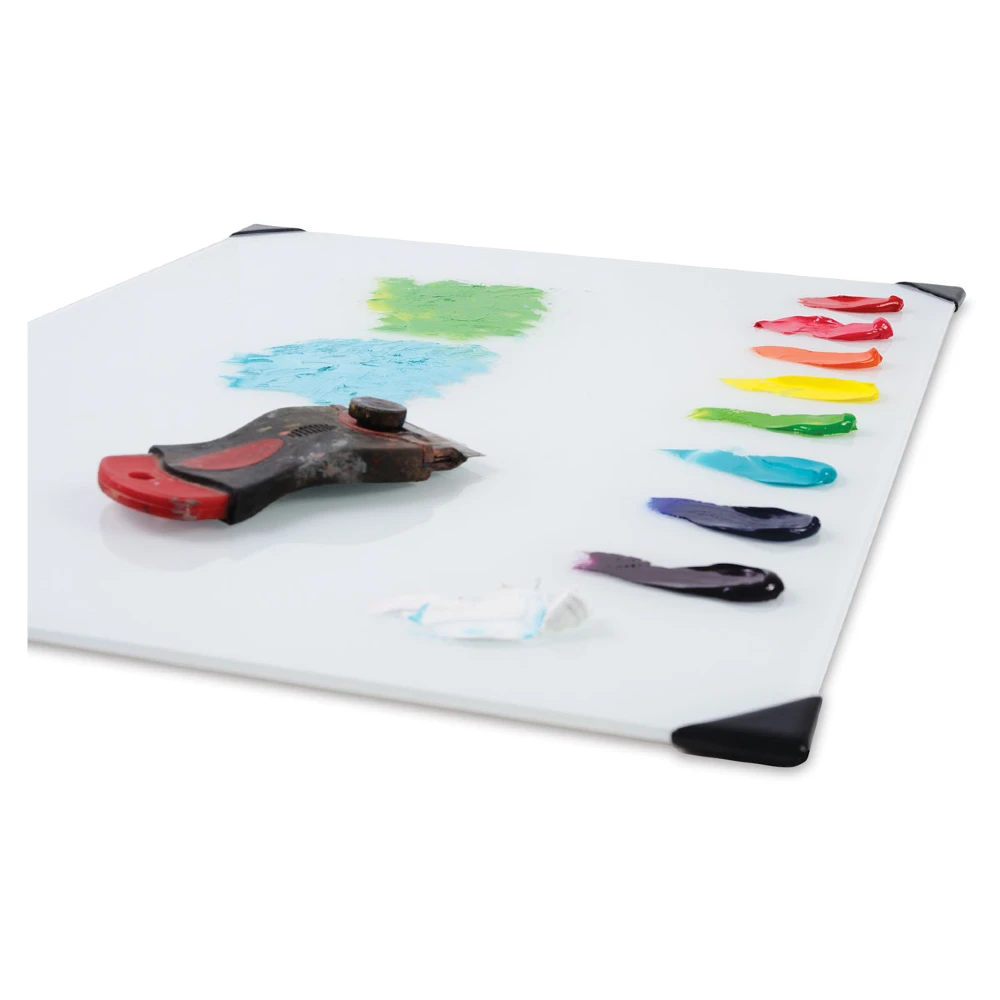 ---
Delta Heavy Duty Glass Scraper
The Hyde glass scraper is the perfect artist tool to keep glass palette clean. The body is made of metal, it is solid and easy to hold and it does the job beautifully.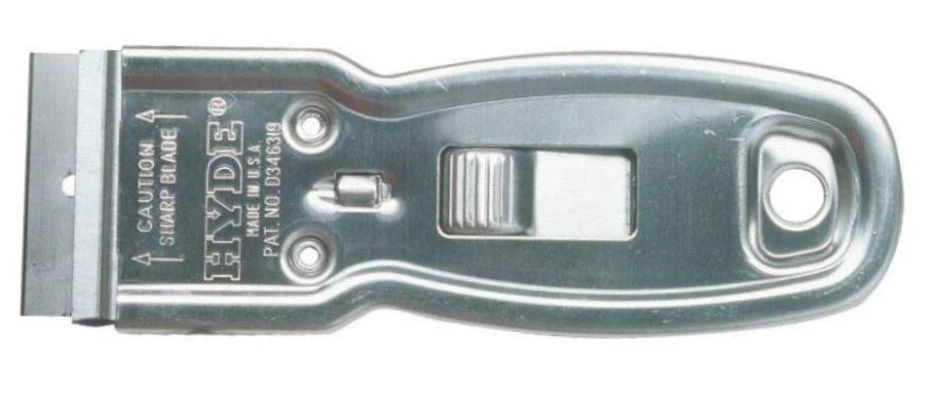 ---
Stainless Steel Palette knives
This set of knives is a great value for the price. They are easy to hold, come in different shapes, the metal blade is flexible and they pick up pigment powder without it clinging to the metal.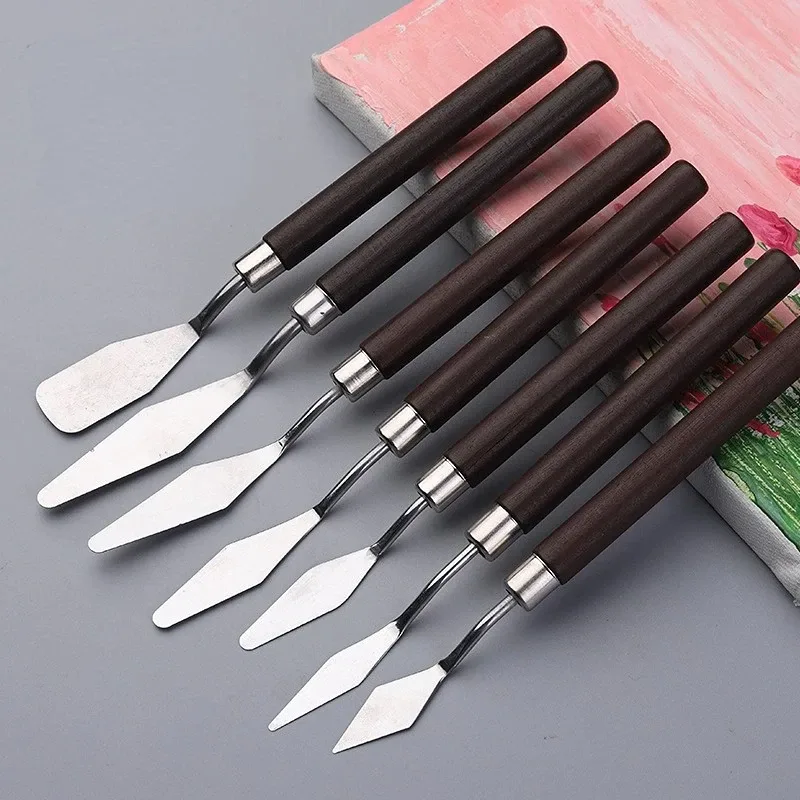 ---
Brush Washers
A brush washer can help you save time. Instead of spending ages washing paintbrushes in the sink you can quickly and easily rinse them off in the brush washer. This tool is especially important for oil painters who need to keep their brushes in pristine condition in order to maintain their high-quality results.
Arrtx Premium Brush Washer
Arrtx brush washer is made of stainless steel primarily designed for artists. The container is very sturdy and the lid seals tight with a rubber gasket. It has no leaks and it makes cleaning brushes easy. The price is great too.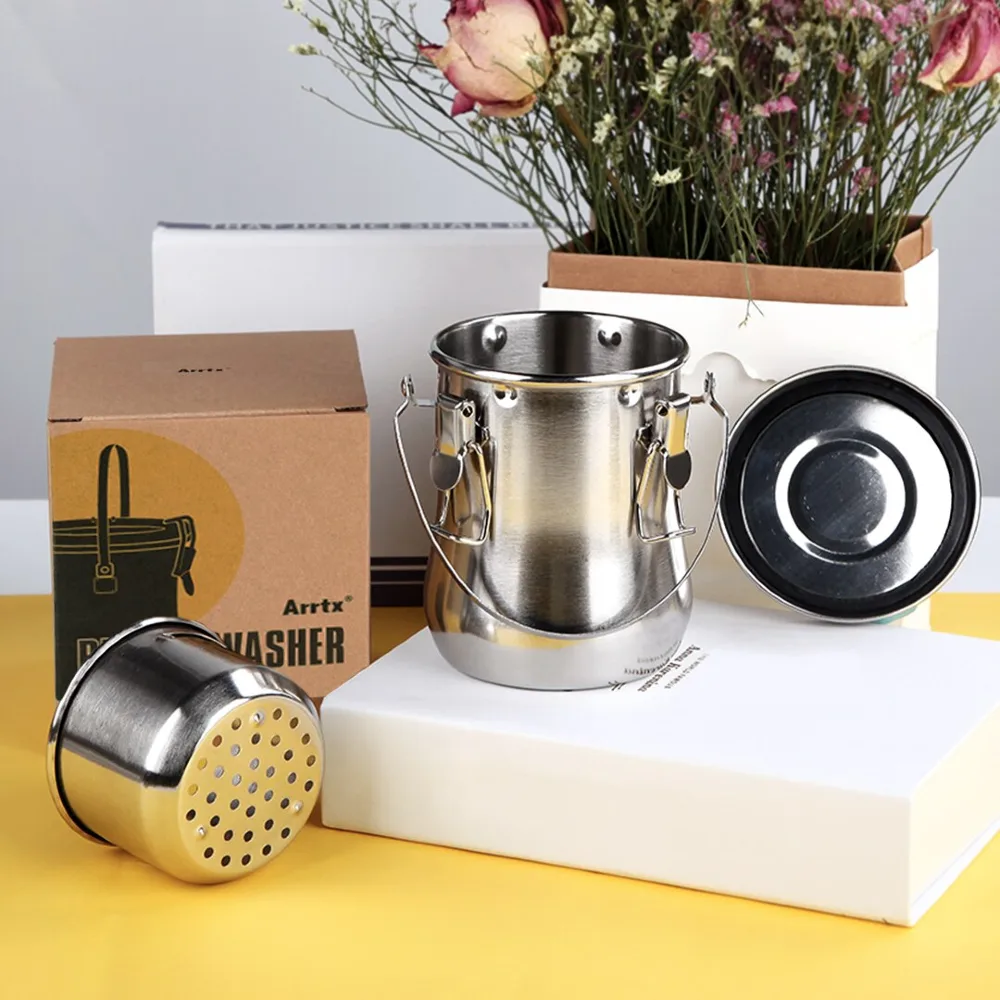 ---
Sketch Book
As an artist, it's essential to always be inspired and ready for creativity. Make sure you've got good sketching tools like a sketch book, pencils or marker pens nearby so that when inspiration strikes, ideas can flow swiftly onto paper.
Strathmore 400 Series Recycled Sketch Pad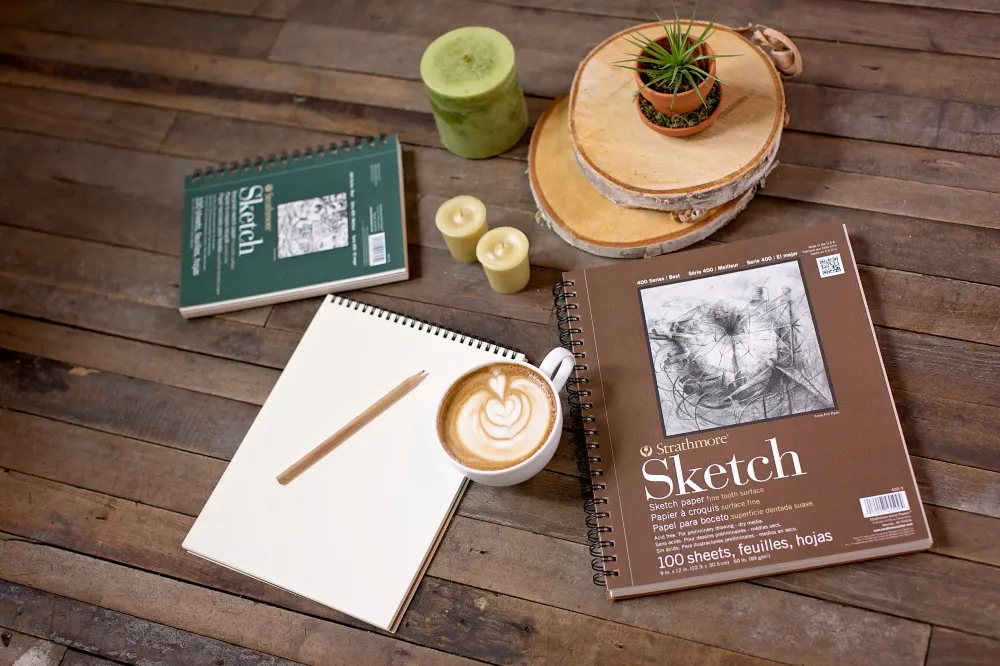 ---
Good Sets of Pencils
Pencils are the ultimate essential in your art tool kit. Graphite pencils are the most common types used by artists. They are versatile and can be used for sketching, outlining and shading. Charcoal pencils are great for creating dark lines and smudged effects and colored pencils are great for adding pops of color to your artwork.
Graphite: Faber Castell 9000 Design Pencil Set of 12
Castell 9000 graphite pencils are a standard for artists. They are super-smooth, with no scratchy bits in the cores, sharpen easily and still hold an edge. The graphite is strong enough to not crack in the barrel. They also come in a very nice case with a soft matte-like finish to the touch.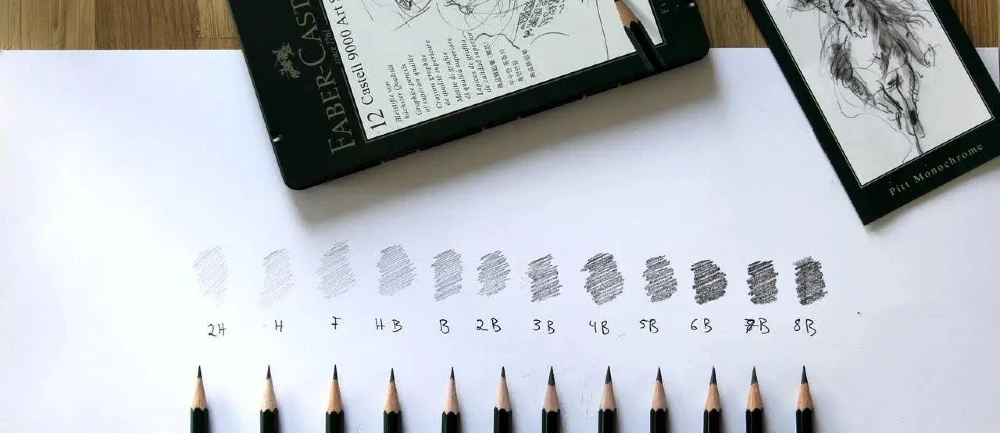 ---
Charcoal: Cretacolor Charcoal Drawing Set
Cretacolor's "Black Box" Charcoal Drawing Set is a treasure chest for charcoal lovers. It includes all essential charcoal products, Monolith woodless graphite pencils, a coal stick, a kneaded eraser and a blending stump, all offered in an attractive tin box.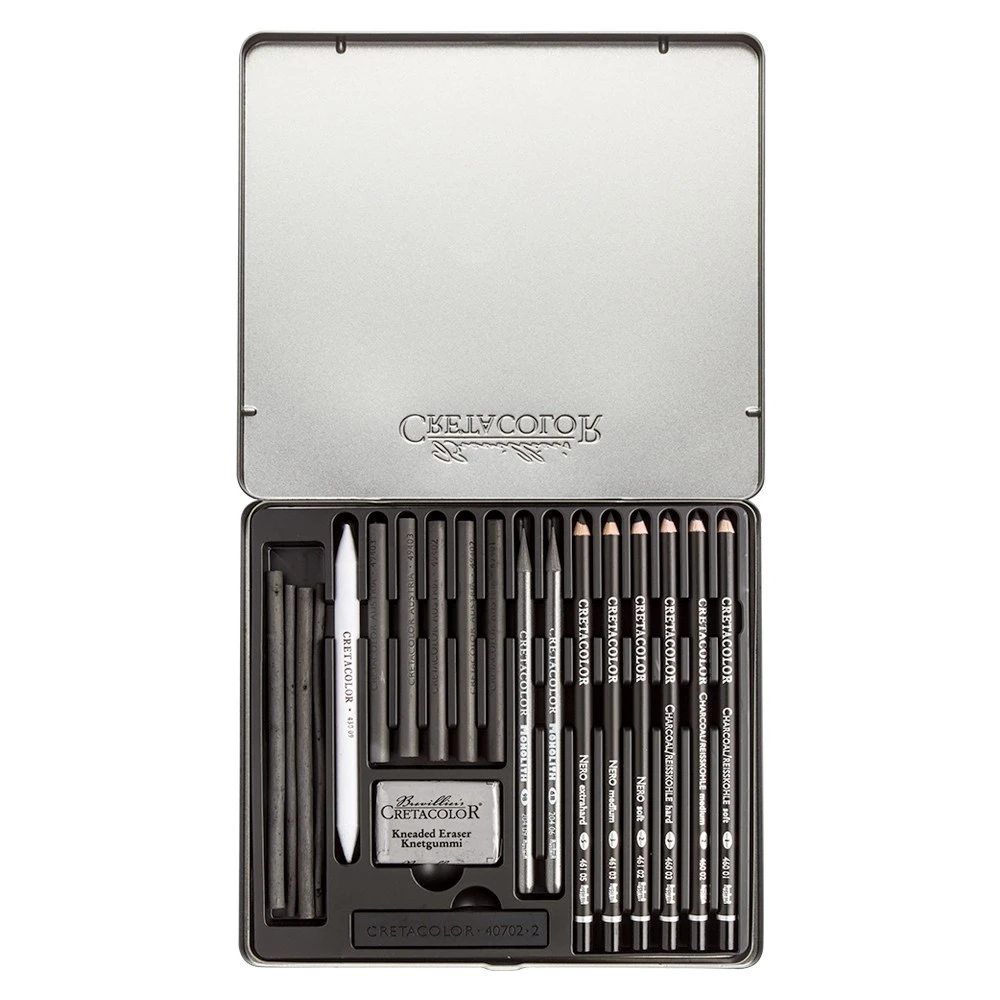 ---
Colored Pencils: Prismacolor Quality Art Set
These Prismacolor colored pencils are artists' quality for every level of expertise. They have a great flow, even application and great colors, they sharpen nicely without breaking easily.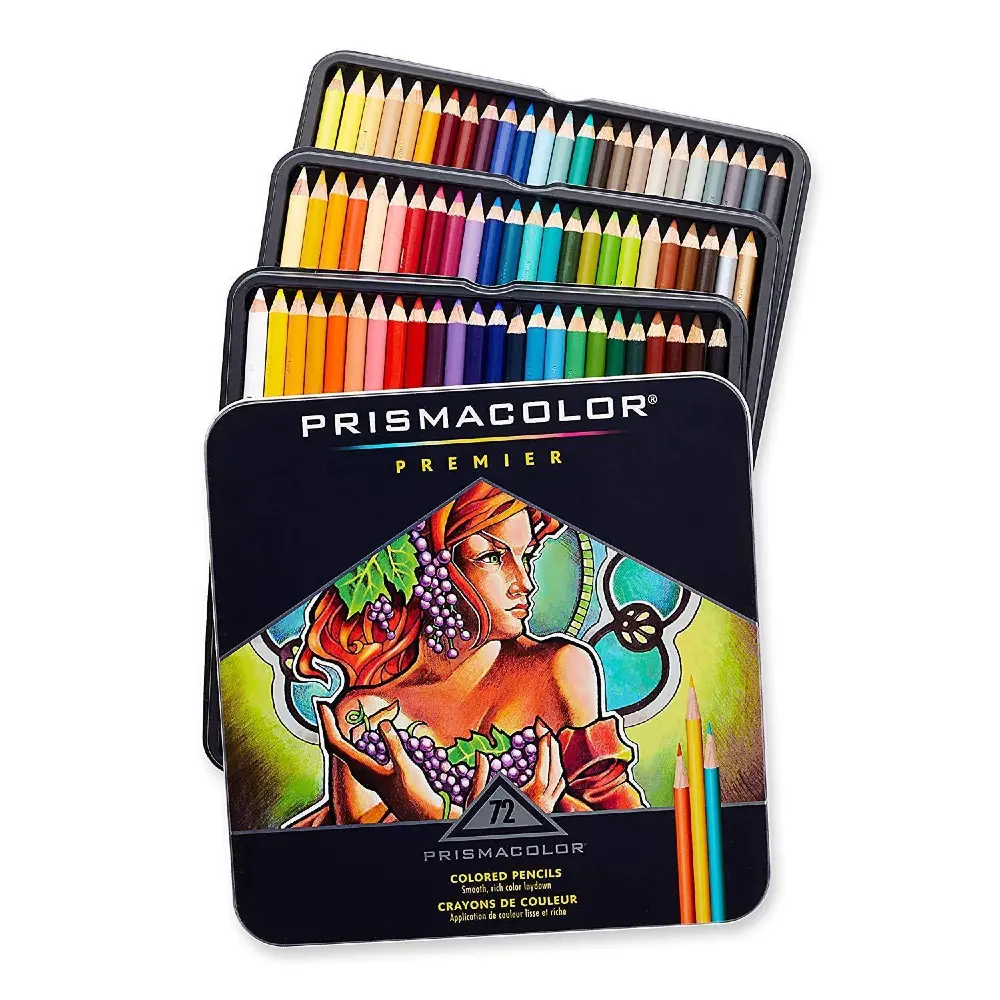 ---
Pencil Case: Portable Pencil Bag
A durable and spacious bag perfect for holding your art supplies and pencils.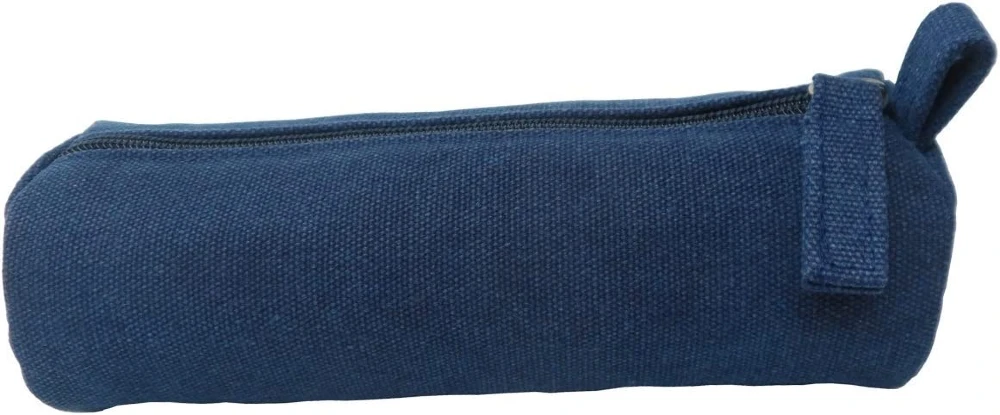 ---
Daylight Lamp
Lighting in an art studio can be a tricky thing and it can often be unpredictable due to the weather. Fortunately, with a good daylight lamp, you can create art no matter what the weather is like, day or night, rain or shine.
Daylight Artist Studio Lamp
This lamp is well built and better then anything out there for an art studio. It is extremely powerful and spreads the light across a wide area which is ideal for large paintings. Its natural bright white daylight technology also reduces eye strain and glare for healthy vision and allows true color correcting for color matching, ideal when painting or looking at photographs.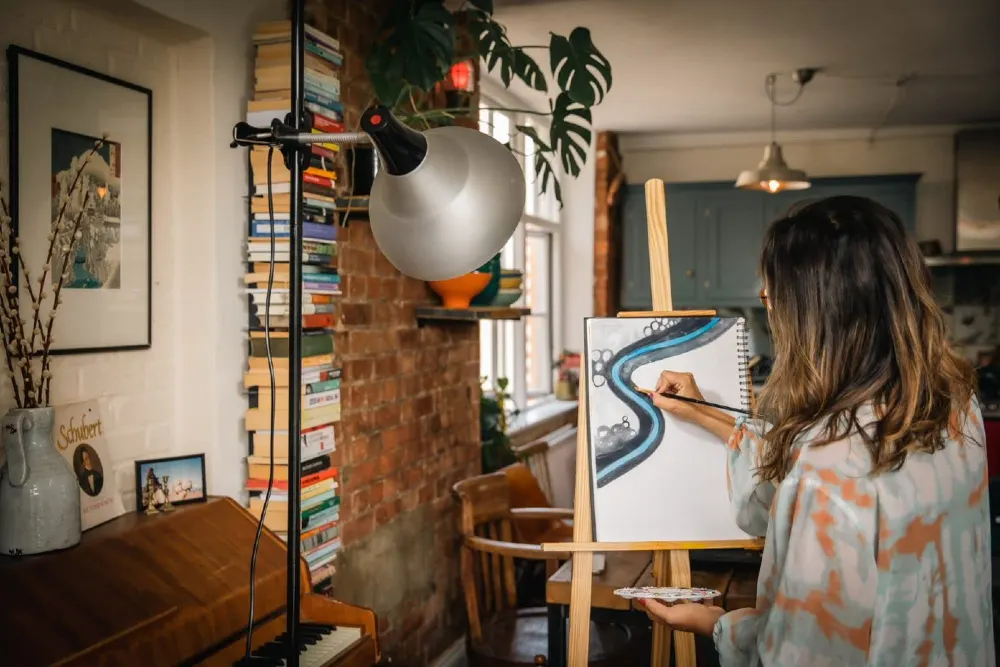 ---
Apron
Last but not least the artist apron is an essential accessory to have in the studio to protect your clothes from paint and solvents.
AFUN Chef Aprons
This thick canvas apron is perfect for all kinds of work and ideal for artists. It is handcrafted from 100% soft cotton, it has 3 multifunctional pockets in the front of the apron which can hold your brushes and tools and feels very durable and sturdy.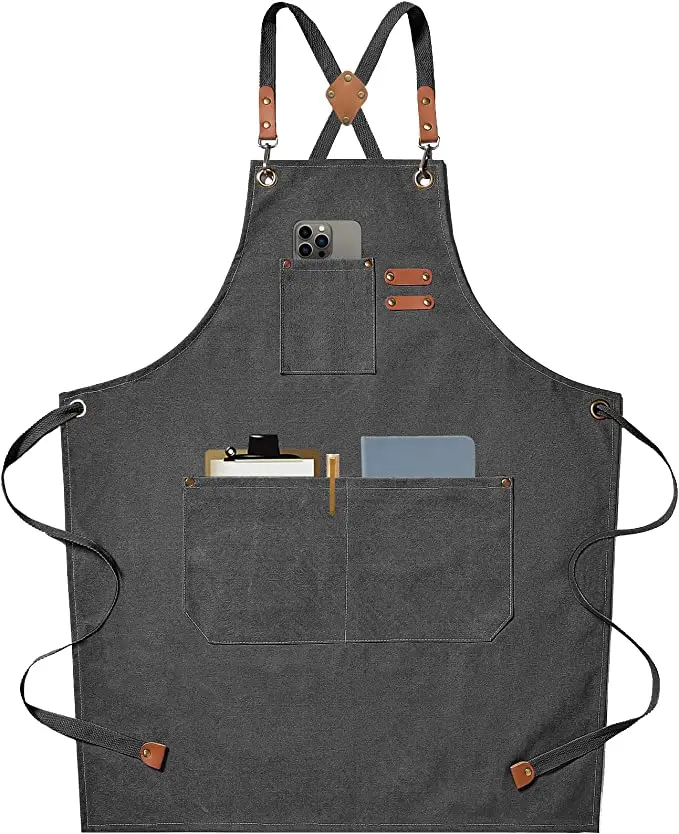 ---
In conclusion, no artist's studio is complete without a selection of quality art supplies. They can make the difference between a good work of art and a great one. Investing in all the essential art supplies for your studio will ensure that you have everything you need to become a successful artist.
What art supplies should you get as an artist beginner?
Pencil drawing is the easiest medium to get started with. You should first get a sketchbook and a good set of pencils. Watercolor painting is another great choice for beginner artists allowing you to experiment and create a range of styles. The basics include a brush, watercolor paper and a good set of watercolor paints.
What art supplies should you get for your child?
Markers are vibrant, colorful and great for kids all ages. Crayola Colored Pencils are also great as a first drawing tool and Tempera paint is another creative way to get your kids started with painting. Tempera is also non-toxic, making it a safer option for kids.
How to make your art studio a great work environment?
First of all make sure you have enough light in your studio. Natural light is incredibly important for your artwork so make sure your studio has plenty of if. If you cannot get enough natural light you can also buy a good studio lamp and use that as well. Second, consider adding plants to your art studio. Plants can help bring life and energy to a room and can also help improve air quality. Third, make sure your studio has access to running water and a washable sink for cleaning your tools.