Here at Huntlancer we embarked on a journey to find and recommend the best and most useful resources in the freelance industry and gig economy, and if you've got a knack for doing the same, the gig economy app affiliate programs below could be worth their weight in gold.
There are a whole host of gig economy app affiliate programs out there today. Some see you recommend creative talents like designers and writers, others rely on you to send customers their way or promote sellers in online marketplaces. Other might see you become the middle man between a network of artists, filmmakers, developers and the people needing their services. The one thing they all have in common is the opportunity for you to make good money on commission that comes from your recommendations. We've done the leg work to find the best gig economy app affiliate programs out there for 2023, so you can skip the searching and get straight down to making money.
General Freelance Gig Platforms
Fiverr is just the right online gig marketplace that an employer on the hunt for a freelancer needs. You can find just about any product or service you need, all starting at very affordable prices. That is why, over the years Fiverr became one of the most popular freelance marketplaces in the gig economy ecosystem. A few years ago they introduced Fiverr Pro, a curated collection of highly experienced professionals who offer high-end services.
Program URL: https://fiverraffiliates.com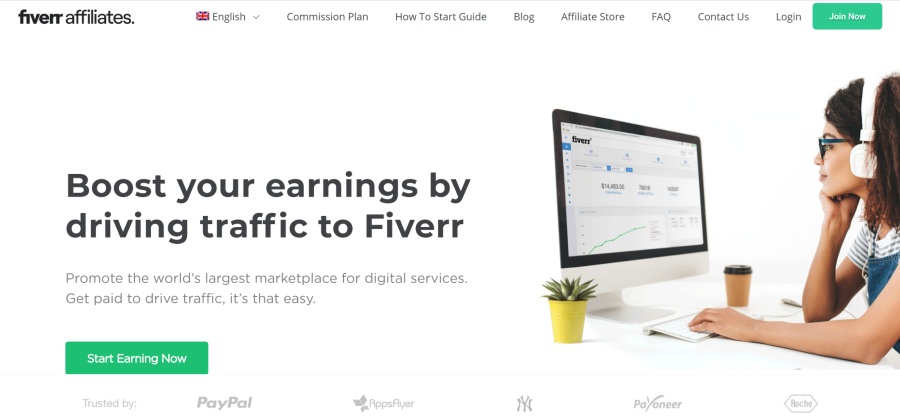 Fiverr's affiliate program is a great opportunity to make some money. You can immediately signup and start promoting different services provided by Fiverr thorough sharable links. The program is one of the best legitimate affiliate programs out there and it pays high commissions to its affiliates.
Related Post: 25 Best Selling Fiverr Gig Ideas to Start in 2023
Commission Rates: Fiverr CPA 15$ to 150$, Fiverr Hybrid $10 CPA plus 10% revenue share for 12 months, Fiverr Business $100 CPA once the account reaches $100 in spend + 10% Revenue Share for 12 months, Fiverr Learn 30% on every course order, And.Co 50% of every Pro plan.
Fiverr Affiliate Program Benefits:
Everyone can join with no website needed
Excellent intuitive affiliate landing page
Great for affiliate marketing beginners
Great professional support and instruction guides
FreeUp is an online marketplace connecting pre-vetted virtual assistants, freelancers, and agencies in eCommerce, marketing and Amazon. While their core customer base is within eCommerce and marketing, they work with many businesses outside of those spaces as well. FreeUp interviews and vets thousands of applicants each week then only allows the top 1% into their platform.
Program URL: https://freeup.net/referrals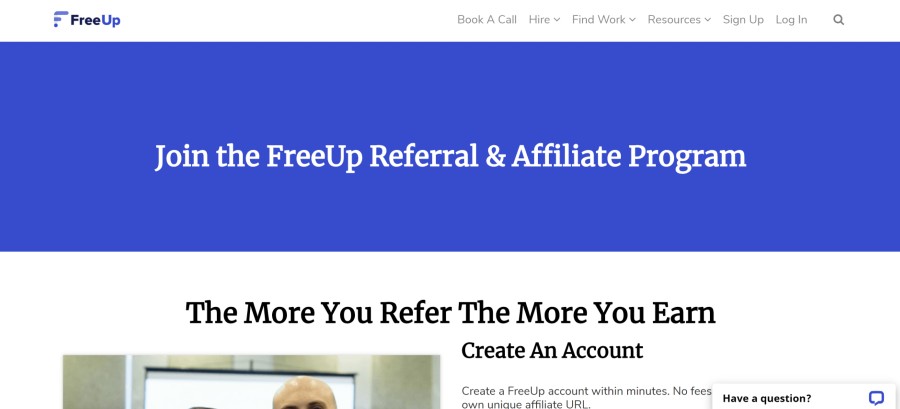 By joining the FreeUp Referral & Affiliate Program you can promote FreeUp to other business owners and freelancers using your unique affiliate URL found in your FreeUp account.
Commission Rate: $0.50 for every hour billed to any businesses you refer for the first 180 days of the referred client's account.
FreeUp Affiliate Program Benefits:
Anyone can instantly join
24/7 support team
SolidGigs is a website that manually reviews approximately 100 sites that list freelancing opportunities and alerts you of the very best 1% of jobs available daily, saving you hours of job hunting each week. They have also partnered with people in freelancing and solopreneurship to offer training and education on a multitude of topics – everything from pitching and sales to pricing, client acquisition.
Program URL: https://solidgigs.com/affiliates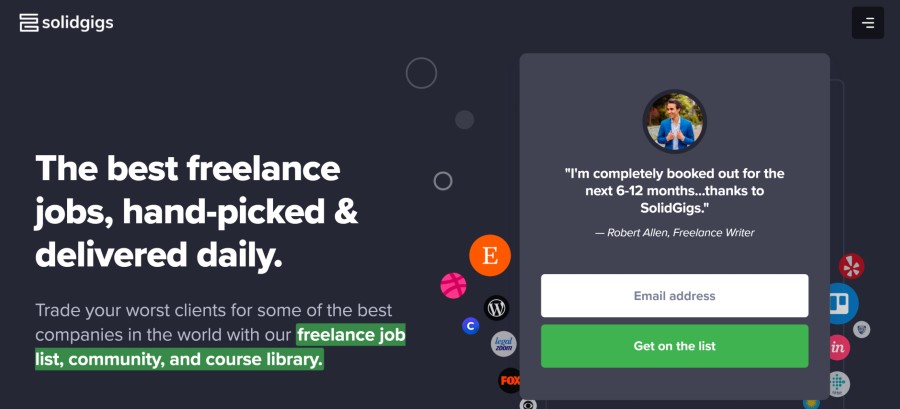 You can join their Affiliate Program and earn up to 35% commission on each new paid sign-up. You will get a one-time payment for the referral of every new customer. The program is open for all and all you need to do is sign up on Solid Gigs affiliate page.
Commission Rate: 35% commission of each new paid sign up you refer.
SolidGigs Affiliate Program Benefits:
Job List updated weekly
Great internal affiliate tracking system
You are helping freelancers who are looking for high-quality, curated jobs
1840 & Company is a fairly new freelance marketplace and BPO company providing on-demand, vetted freelance talent and outsourcing services. The company is headquartered in Overland Park, KS, USA with service delivery facilities in the Philippines, India, Ukraine, South Africa and Argentina. They also have an exclusive global network of freelance talent available in over 150 different countries.
Program URL: https://www.1840andco.com/referral-program

The 1840 & Company referral program is perfect for affiliates with audiences in the HR/recruiting and offers a generous $1000 commission for each successfully referred client. The program is straightforward to join but they do require approval as they want to make sure that all their affiliates would be a good fit.
Commission Rate: $1000 for each client referred.
1840 & Company Referral Program Benefits:
A generous $1000 commission for each client referred
90 day cookie based tracking
Dedicated affiliate support
No limit on the number of clients you can refer
FlexJobs is one of the oldest, most established and well-respected work-at-home job platforms where job seekers can find legitimate, professional, remote and flexible jobs. There are jobs in over 50 career fields, including education and training, call center jobs, accounting and finance, insurance jobs, internet and eCommerce, transcriptionist jobs, travel and hospitality, data entry jobs, and plenty more.
Program URL: http://affiliates.flexjobs.com

Through the FlexJobs affiliate program you can help job seekers discover high-quality remote and flexible jobs. Every single job on FlexJobs is hand-screened for legitimacy, with no ads or scams mixed in, and every single job offers work flexibility such as working from home, freelance, part-time or other flexible options.
Commission Rates: $7 – $15 for every paid subscription you send.
FlexJobs Affiliate Program Benefits:
Easy to sign up
Dedicated affiliate manager
You are helping jobseekers who are looking for high-quality remote jobs
Web Development Gig Platforms
Codeable is the best platform for finding good reliable developers you need for WordPress related freelance jobs. Over 34 percent of the websites on the internet are WordPress sites, so it's no surprise there's a massively high demand for qualified WordPress developers. If you are looking to boost your earnings by recommending good WordPress developers then Codeable Affiliate Program is a good fit for you. The developers on Codeable are well screened and very professional.
Program URL: https://codeable.io/affiliate-program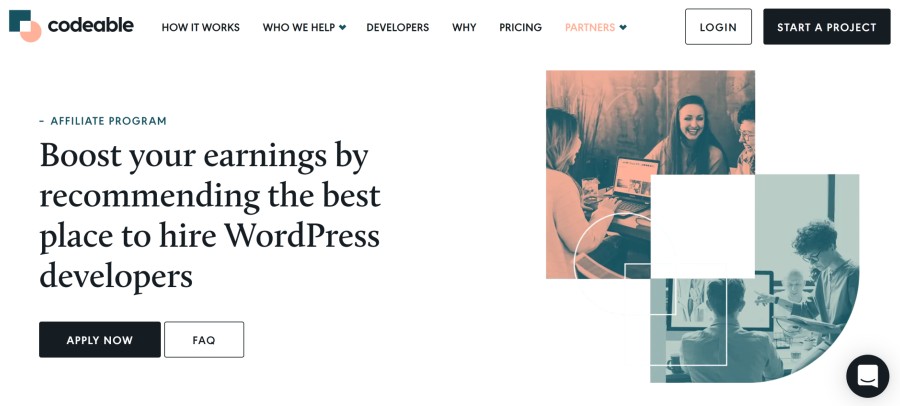 Through Codeable Affiliate program you have a partnership with the platform to help sell their services and receive a commission for every sale. Codeable.io takes care of the support, lead conversion, and actual development. Their program is one of the best Affiliate programs in the freelance Web Development niche and it is used by big WordPress brands like WooCommerce, SiteGround, WP Engine, and more.
Commission Rates: Fixed fee $45 for each new client that completes a project, %-based a 50% split from our client fee for each new referral.
Codeable Affiliate Program Benefits:
affiliate program is used by leaders in the WP ecosystem
great support and useful tools for affiliate success
good for bloggers focused on offering WordPress help
Gun.io is one of the leading platforms in the world to find and hire elite freelance web developers, designers, software engineers and product managers. Gun.io vets its freelancers with a more extensive interview process based on the three principles: find, test, and certify. In the initial stage of allowing talent to their platform, Gun.io filters prospective freelancers up to 90 percent.
Program URL: https://www.gun.io/refer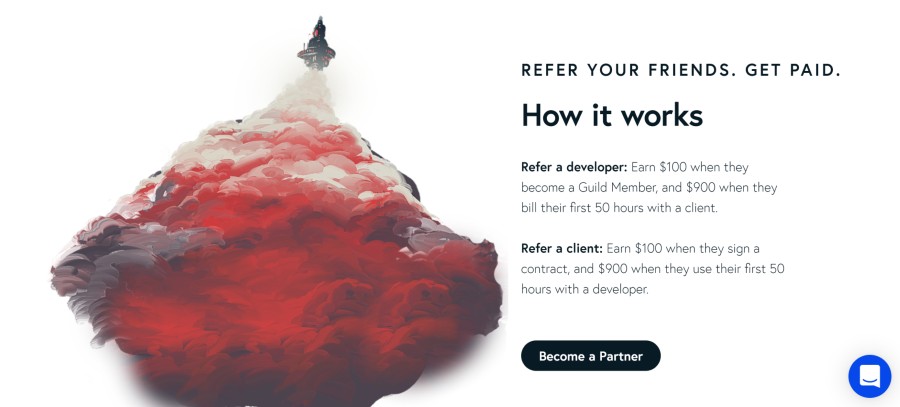 Through Gun.io Referral Program you can easily sign up and get paid significantly for either referring developers from their community or for bringing clients to their platform.
Commission Rates: $100 to $900 for each referral.
Gun Affiliate Program Benefits:
good commission rates
easy to sign up
access to a large community of high quality developers
Toptal is a a freelancing platform for top software developers, designers, finance experts, product managers, and project managers. Through its comprehensive screening process, Toptal only hires the very best talent.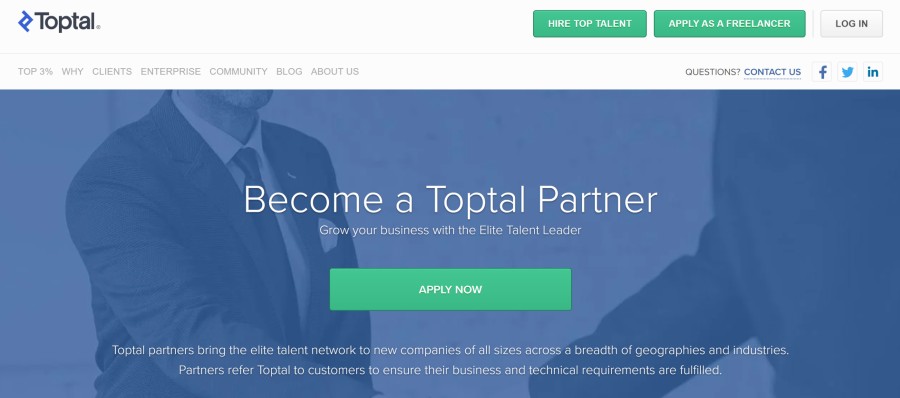 There are two ways you can earn from Toptal's Partner Program: refer companies and get 2000$ each time a company you refer becomes a paying client or refer a freelancer from their community and earn 1.5% commission from their generated revenue.
Commission Rates: 2000$ per referral, 1.5% commission from revenue generated by each freelancer.
Toptal Affiliate Program Benefits:
You get access to work directly with Toptal's sales Team
High commission rates
You don't need a website to apply
Access to a large community of top freelance talent
Selling and eCommerce Platforms
The Amazon Associates Program is one of the largest and most successful online affiliate marketing programs in the world. The Amazon Associates Program helps content creators, publishers and bloggers monetize their traffic. With millions of products and programs available on Amazon, associates use easy link-building tools to direct their audience to their recommendations, and earn from qualifying purchases and programs.
Program URL: https://affiliate-program.amazon.com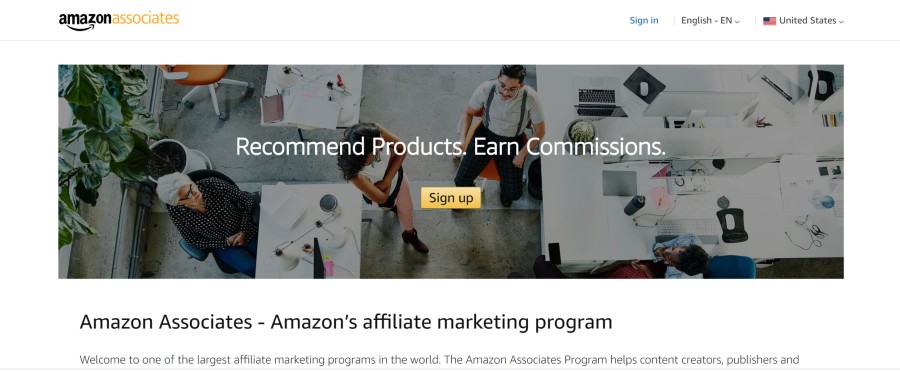 The program is free to join and can be an easy way to monetize your website or blog. All you need to do is sign up and start creating your first affiliate links. Millions of people browse and shop on Amazon every month and the variety of products offered on Amazon is massive. Those two reasons alone are strong enough for most affiliates to earn a decent amount of income through Amazon.
Commission Rates: 1% to 10% based on different product categories.
Amazon Associates Program Benefits:
Good for affiliate beginners
Suitable for every niche
Easy to sign up
Huge-selection of products and promotions
Etsy is one of the most popular marketplaces for people looking for handmade items, vintage items and craft supplies. As an Etsy affiliate, you can promote specific Etsy shops and earn a 4% commission on all qualified sales.
Program URL: https://www.etsy.com/affiliates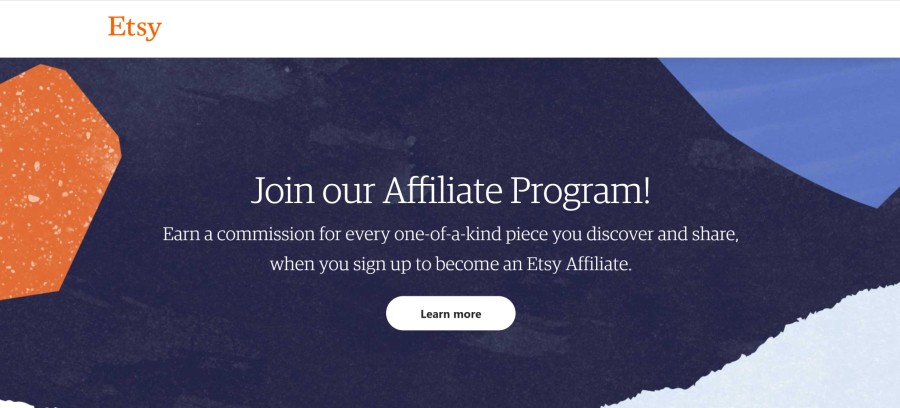 Etsy is one of the stricter affiliate programs and you must have a website with relevant content. There is also a small application fee of $5. The cookie period is 30 days, which means affiliates will receive a commission on sales attributed to their account during this period.
Commission Rate: 4%
Etsy Affiliate Program Benefits:
one of the most popular marketplaces in the world
good for special events, wedding, event planning and handmade product niches.
access to exclusive Etsy content and promotions
The eBay Affiliate Program was way more popular when it paid higher commission rates but it still is an interesting alternative to Amazon that's at least worth testing.
Program URL: https://partnernetwork.ebay.com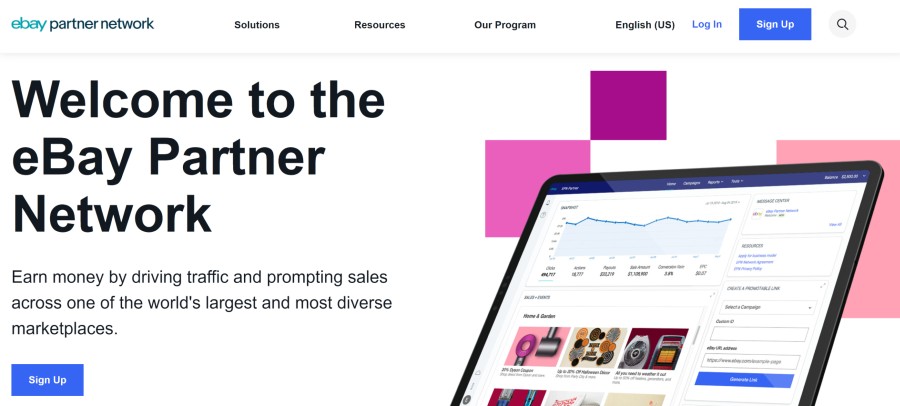 eBay is one of the largest online brands and with the eBay affiliate program you can promote over one billion listings from any category you can possibly imagine. There are no requirements for joining the program; however, eBay pretty strict with who it allows onto the program. The biggest drawback of the eBay affiliate program is the referral period. Cookies used to remain active for seven days but now they are active for just 24 hours, which is a ridiculously short period.
Commission Rates: 50% to 70%, 100% bonus if the purchase is made by a new or reactivated eBay buyer.
eBay Affiliate Program Benefits:
Very high commission rates
Low payout threshold
Excellent intuitive affiliate landing page
Design and Creative Gig Platforms
99designs is a leading gig marketplace for graphic and logo design, web design, car designs, and brand identity. It works in a way that you can hire a wide range of graphic designers for your specific needs or you can create a contest on the website in which designers submit their work, and you have the liberty to chose any of theses works.
Program URL: https://99designs.com/affiliates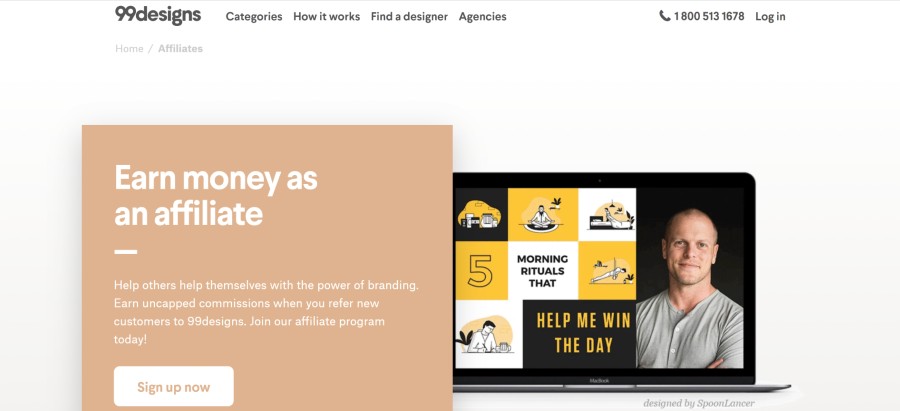 The 99designs affiliate program is powered by Impact network. To join 99designs affiliate program, go to this page and apply to campaign. 99designs team will review your application and notify you through E-Mail.
Commission Rates: Associate Affiliate $60 for every new contest customer you refer, Affiliate Partner $80 per customer after you bring in more than 25 sales, Brand Partner $100 per customer once you bring in 50 lifetime sales.
99designs Affiliate Program Benefits:
Dedicated Affiliate Manager
Trusted brand
Frequent Promotions
Creative Market is a marketplace platform for handcrafted digital design content from independent creatives around the world. Users can search and purchase licenses for things like templates, fonts, illustrations and stock photos.
Program URL: https://creativemarket.com/partners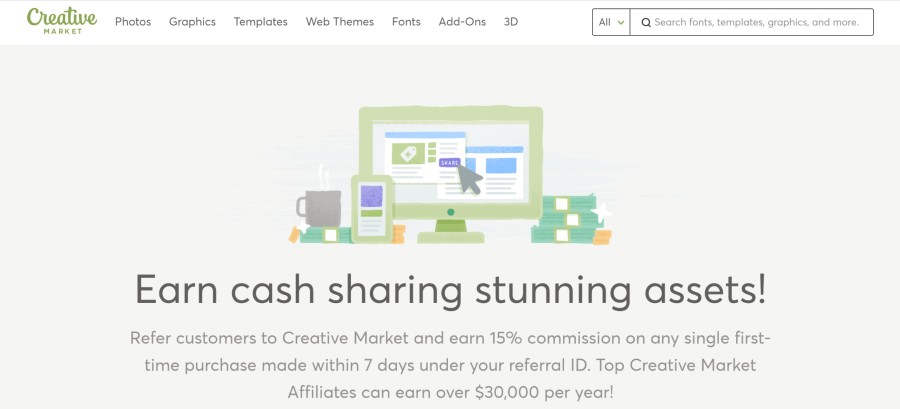 The Affiliate Program offers a 15% commission on new customer purchases made on Creative Market within 7 days of the referral. Specifically, you can earn a 15% of your referred customer's first purchase within 7 days, as long as they are a new user.
Commission Rates: 15% on any single purchase made by any customer who signs up for a new account.
Creative Market Affiliate Program Benefits:
Good for Pinterest marketers
Good for affiliate beginners
Access to great affiliate marketing tools
Designhill is a popular graphic design platform where independent designers can use to generate income, showcase their work, and participate in design contents to further their business. If you are in need of designs for websites, packages, logos, or business cards, to name some among nearly three dozen design categories, Designhill has got the connections to the best designers to help you get that design that you are looking for.
Program URL: https://www.designhill.com/affiliate-program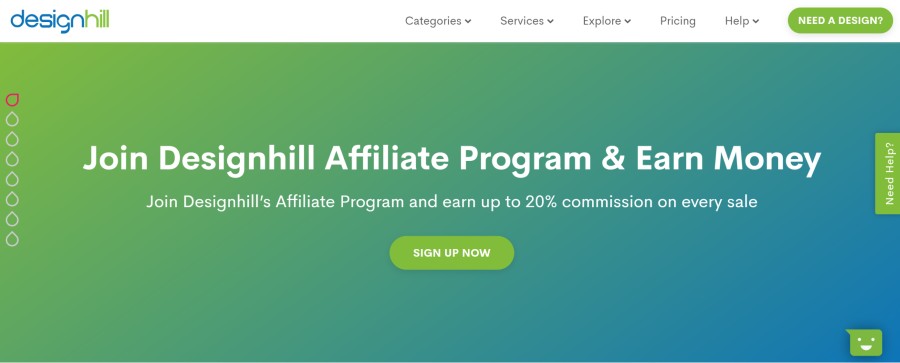 Designhill Affiliate Program lets you earn up to 20% commission for every sale made through your referral. All you have to do is just share the link with those who are looking for design services and once a sale is done, you earn your commission in cash. Cookies will last for 30 days.
Commission Rate: up to 20% commission on every sale.
Designhill Affiliate Program Benefits:
Dedicated 1-on-1 support team
Frequent Offers and Promotions
Trusted brand
Redbubble is a global online marketplace where artists across the globe can sell their artwork on various products. From t-shirts, hoodies, dresses, and even canvas prints, buyers can find their ideal artwork from a respected artist seller and customize it on the product they like. It's a great way for artists to earn a passive income online because once a design is up and selling, they can earn a commission on their artwork for life.
Program URL: https://www.redbubble.com/p/398-affiliate-program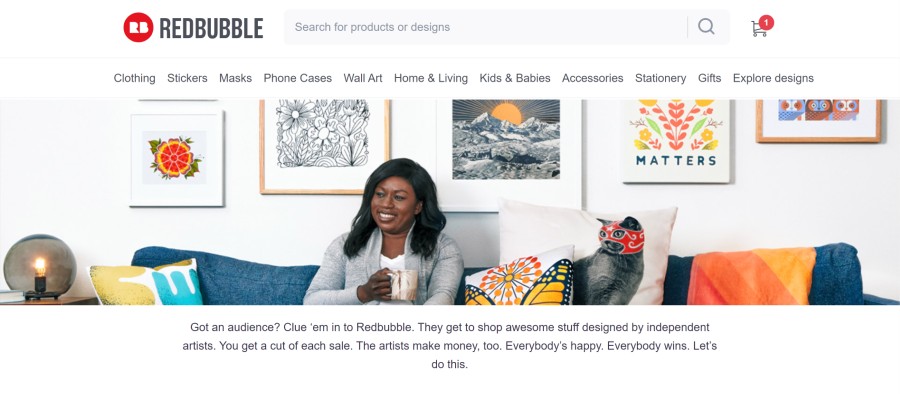 You can join RedBubble Affiliate Program on a number of different platforms but if you join directly on from their website, the official program is via Impact. They offer 10% Commissions and a 30-day cookie. The average reported sale is $42.00.
Commission Rates: up to 10% commission
Redbubble Affiliate Program Benefits:
Easy to signup
Frequent promotions
You are helping freelance artists selling their artworks
Similar to Redbubble, Society6 is an open platform for artists to share their art as a variety of products, from wall art and apparel to tech accessories and home décor.
Program URL: https://society6.com/affiliate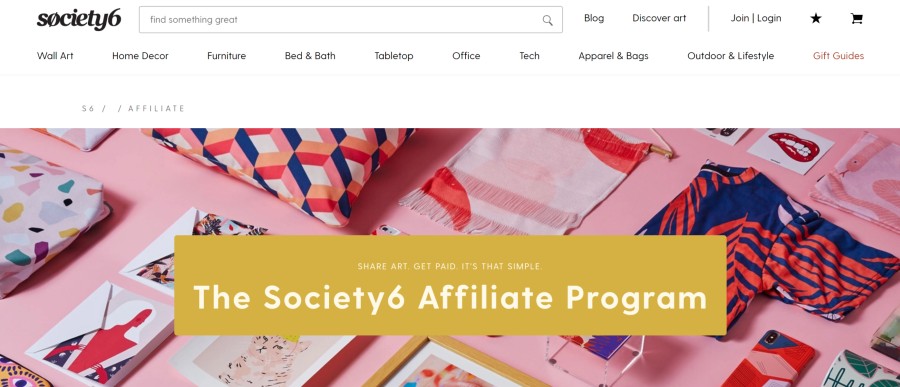 As a Society6 affiliate, you can earn money by sharing your favorite products or designs with friends, family and followers. The program is free to join and there are no minimum sales requirements to cash out your earnings. For being approved you only need a valid PayPal account and the registration only takes 2 minutes to complete. Cookies will last for 30 days.
Commission Rate: 10% commission on purchases made through your link.
Society6 Affiliate Program Benefits:
Good for Social Media marketers
You are helping freelance artists selling their artworks
Easy to signup
Tongal is an independent creative network for independent filmmakers, animators, editors, writers and artists. The platform connects businesses in need of creative work with its community of creators.
Program URL: https://tongal.com/community/referrals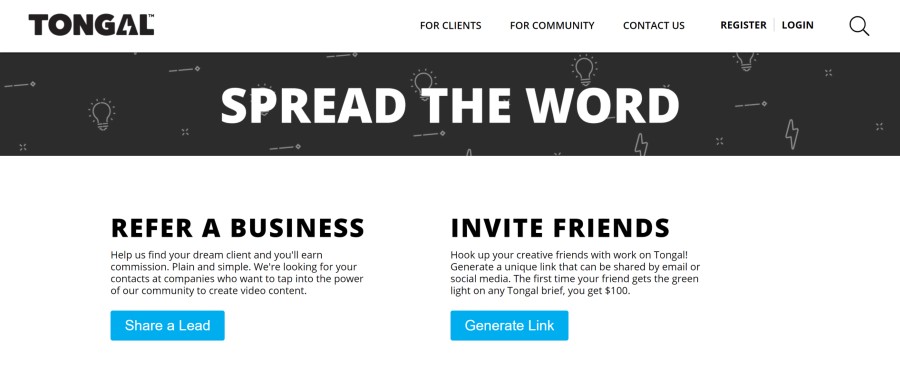 There are two ways you can earn through Tongal's Referral Program: you can refer a business to hire community members or you can invite creative connections to join the platform.
Commission Rates: 100$ per referral.
Tongal Referral Program Benefits:
Trusted brand
Good for Video content marketers
Online Courses Gig Platforms
Teachable is an all-in-one platform that helps you create and sell courses online and one of the most important leaders in the online education industry. It is relatively easy to use and has lots of powerful tools for creatives.
Program URL: https://teachable.com/affiliates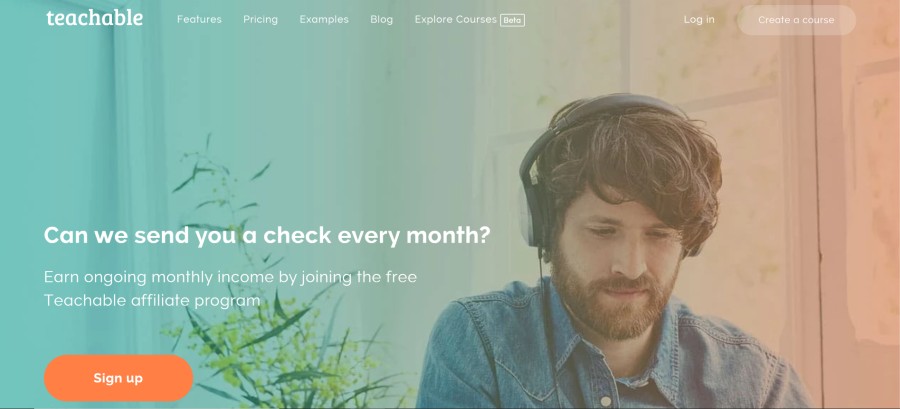 Teachable is probably the best recurring affiliate program in the online education industry. It offers a 30% commission every month, providing a reliable income in an otherwise semi-unstable industry. Teachable also offers bonus bundles and customized payment methods for your customers. Joining the Teachable affiliate program is quite simple and if you have a decent website, not necessarily targeting educational matters you will likely get accepted by this program.
Commission Rate: 30% recurring commission per sale on any monthly or yearly subscriptions.
Teachable Affiliate Program Benefits:
High recurring commission of 30%
90-day cookie duration
Dedicated affiliate support team
Thinkific is another popular online course platform that you can use to create and sell courses and membership sites. It allows you to build a course with videos, rich text and images, and downloadable files.
Program URL: https://thinkific6979.partnerstack.com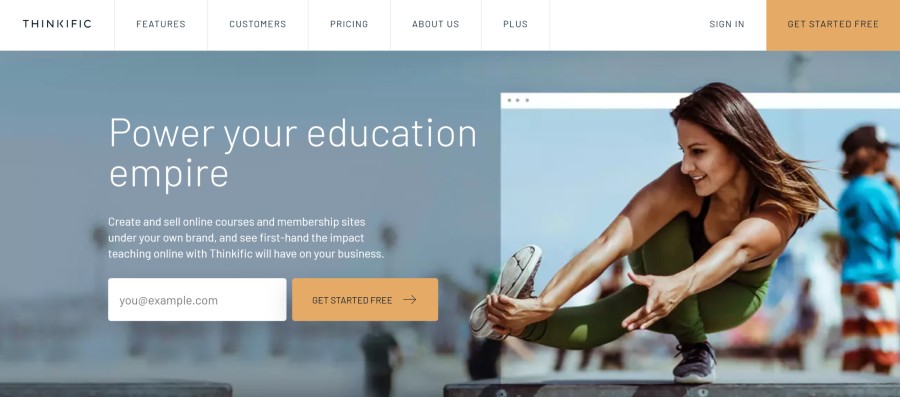 Similar to Teachable, Thinkific also comes with a good affiliate marketing feature. By joining the Thinkific Affiliate Program, you get 20% recurring commissions on any monthly or yearly subscriptions and access to exclusive creative and promotional content, and a 90 day cookie period.
Commission Rate: 20% recurring commission per sale on any monthly or yearly subscriptions.
Thinkific Affiliate Program Benefits:
You can earn up to $1100 from each referral per year
20% recurring commission
90-day cookie duration
Preply is a great place to find online language tutors. The company's marketplace helps to find and book professional private tutors online from over 185 countries, enabling users to achieve their goals and speak confidently.
Program URL: https://lp.preply.com/affiliate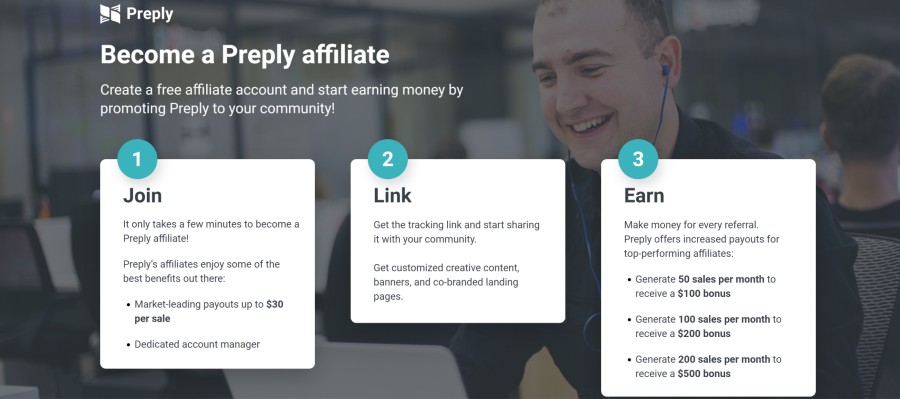 Through the Preply affiliate program, you can invite people to register on Preply as students through the referral link.
Commission Rate: up to $30 per sale.
Preply Affiliate Program Benefits:
Dedicated account manager
Increased payouts for top-performing affiliates
Udemy is a great learning platform, one of the oldest online education sources on the market. The platform features more than 130,000 video courses taught by expert instructors covering a huge range of subjects.
Program URL: https://www.udemy.com/affiliate

The Udemy affiliate program offers affiliates 20% on every course they sell, with a 7-day cookie length making it one of the best e-learning affiliate programs currently available. The advantage of being a Udemy Affiliate is that the platform provides thousands and thousands of potential courses to sell and a multitude of niche topics to focus on promoting.
Commission Rates: 20% commission per course.
Udemy Affiliate Program Benefits:
World's largest selection of courses
A low payout threshold of 50$
Increasing demand for online learning
Home Rental Apps
Airbnb is probably the world's largest marketplace for connecting people who want to rent out their homes with people who are looking for accommodations. They have recently launched their new affiliate program called Airbnb Associates. With this new program you'll earn 30% of the Airbnb service fee for each trip booked through your referral link.
Program URL: https://www.airbnb.com/associates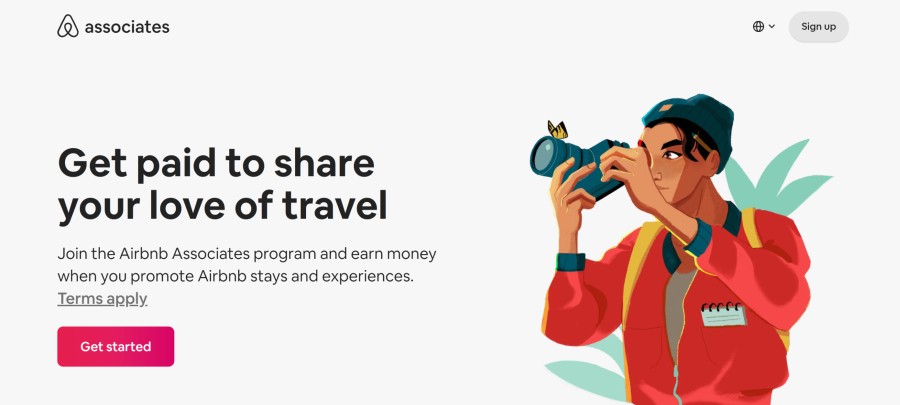 Registering for the Airbnb Associates program is very easy. All you need is a regular Airbnb account. Airbnb Associates uses a cookie duration of 28 days. So every time someone clicks on your content and books a stay within the next 28 days, you'll be credited.
Commission Rate: 30% of the Airbnb guest fee
from each completed reservation, 25% of the Airbnb host fee every time someone books an experience through your content.
Airbnb Associates Program Benefits:
Super easy to register and there are no additional requirements
28 day cookie
One of the top accommodation platforms available with over 4 million homes in 191 countries.
Vrbo is an Airbnb alternative to book beach homes, cabins, and condos. The company gives travelers, owners, and property managers the tools, data, and insights they need to create the best all-around experience.
Program URL: https://www.vrbo.com/l/affiliates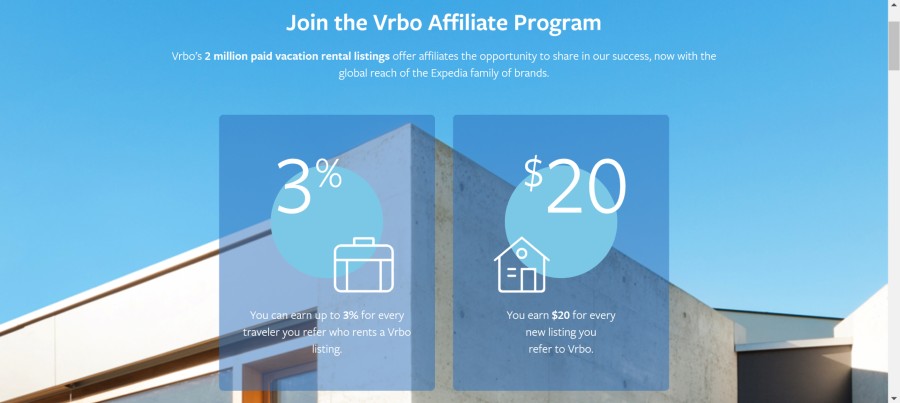 To sign up for their affiliate program, you just have to fill in an online form, mention your company website and location, state how many visitors you get every month and how you plan to promote Vrbo. Once approved, you will be able to promote Vrbo through your website or blog and track your earnings easily.
Commission Rate: 3% for every traveler you refer, $20 for every new listing you refer to HomeAway.
Vrbo Affiliate Program Benefits:
Large property inventory with over 2 million properties listed
API integration
Good Airbnb alternative
Delivery Service Apps
Postmates is a popular local delivery app with a dense network of local merchants, many of which are small, independently owned businesses. The affiliate program is administered by Impact, with a CPA payout model.
Program URL: https://partners.accelerationpartners.com/affiliate-programs/postmates

Affiliate marketers are given access to campaign creatives such as text links and banner ads and can earn $10 for each customer they bring.
Commission Rate: $10 for each new customer.
Postmates Affiliate Program Benefits:
demand and popularity of delivery apps has drastically increased
The Instacart app lets you shop from local grocery stores online, then sends a "personal shopper" to fulfill and deliver your order to you the same day. Instacart works in the US and in some locations in Canada. The affiliate program is administered through Impact.
Program URL: https://partners.accelerationpartners.com/affiliate-programs/instacart

Instacart has two affiliate programs: one for Instacart shoppers, and one for Instacart customers. With the Instacart shopper program, affiliates are paid $5 for each new shopper lead and the Instacart customer program pays affiliates with content websites $10 for bringing new customers to the company.
Commission Rate: $2-10.
Instacart Affiliate Program Benefits:
Good for Food Industry Blogs and Magazines
Cookie lasts for 30 days
Drizly delivers beer, wine, liquor, mixers, and party supplies to customer's doors in locations across America and Canada. Drizly partners with liquor stores to deliver their fine products to customers. The hiring process is different than most gigs, drivers have to reach out to a local liquor store that partners with Drizly and get hired through them.
Program URL: https://drizly.com/affiliate-program/e-9735ed1b7e6c93a9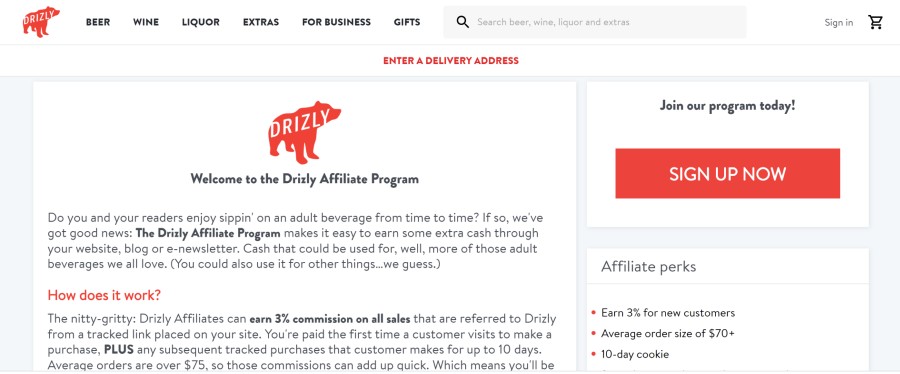 Affiliates earn 3% for orders placed by new customers they referred. The average order value is more than $70 and a nice thing about the affiliate page is that it has a geographic map of high-selling spots and a target age range, which could make it easier to promote the service.
Commission Rate: 3% for new customers.
Drizly Affiliate Program Benefits:
Average order size of $70+
Dedicated Account Management Team
Special coupons/seasonal promotional opportunities
As you'll see, there are a wealth of ways to make gig economy app affiliate programs work for you. With gig platforms and apps becoming more popular than ever as more companies turn to freelance talents to bolster their businesses, there's money to be made in sharing an eye for the best of the bunch.